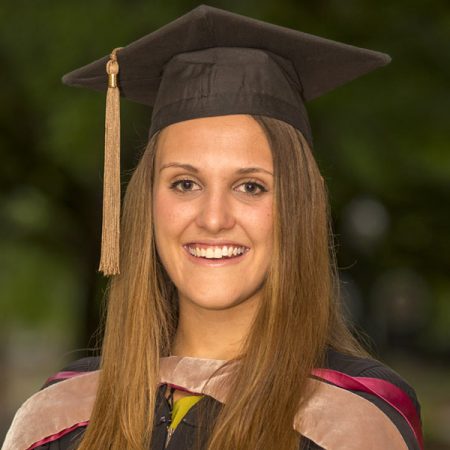 Business savvy and nonprofit know-how are often seen as opposing skill sets, the yin and yang of career pursuits. But for graduate student Kelly O'Sullivan, combining both interests made perfect sense.
"I knew I wanted to do more than clinical social work; I wanted to manage," said O'Sullivan, Florida State University's first graduate of its Master of Business Administration/Master of Social Work (MBA/MSW) joint degree program. She participated in the May 3 afternoon graduation ceremony.
A native of Miami with a long resume of do-good accomplishments ranging from assisting adults struggling with drug addiction to befriending the developmentally disabled, O'Sullivan first considered pairing her social work studies with public administration or law. She chose to pursue an MBA instead after taking undergraduate courses in accounting and statistics.
"I liked how much they taught me to think critically. That challenged me a lot more," she said.
O'Sullivan said graduate business courses have given her a new set of terminology and techniques to apply to her social work experiences. This became more evident during her recent internship with The Oasis Center for Women & Girls.
In the beginning, most of her center work focused on clinical services, such as facilitating the weekly Girls Circle groups at Tallahassee schools, helping adolescent girls to build self-esteem and healthy peer relationships. Then, as her MBA studies progressed, O'Sullivan became more involved in the center's management operations, assisting with hiring, two major grant proposals and quality-assurance tasks needed to monitor the center's services and be accountable to funders.
"When you are a social services agency, there's a lot of keeping track of things, such as how many people the center has served and whether participants have met their goals. She really excelled in that," said Haley Cutler, Oasis executive director. "Kelly was able to draw on competencies from her business school background to help support the overall operation of the agency. In that capacity, I was really able to see her strengths."
As a small nonprofit, the center relies heavily on interns, Cutler said. O'Sullivan exhibited managerial and analytical skills that helped the agency move forward.
"She's an incredible self-starter, super detail-oriented and very competent," Cutler said. "I think she really demonstrated her ability to learn on the job, learn quickly, work efficiently and put puzzle pieces together to make something work. We're going to miss her."
After a summer break abroad, O'Sullivan plans to move to New York City and start her career with an agency that allows her to put her business and clinical skills to work helping people.
MBA Program Director David Orozco hopes O'Sullivan's accomplishment encourages others from non-business backgrounds to pursue a Florida State MBA.
"Kelly's story shows that business skills can be applied to do good in the world, and that the program can be customized to each student's unique goals," Orozco said.
"You definitely have to be a motivated student," O'Sullivan said. "There's a lot of work to be done. But it's 100-percent doable. So few social workers have a business mindset, so I think it's going to be an advantage for me going into the workforce."
For more information on the Florida State MBA program, visit mba.fsu.edu. The application deadline for the MBA/MSW program is June 1 and starts each fall.