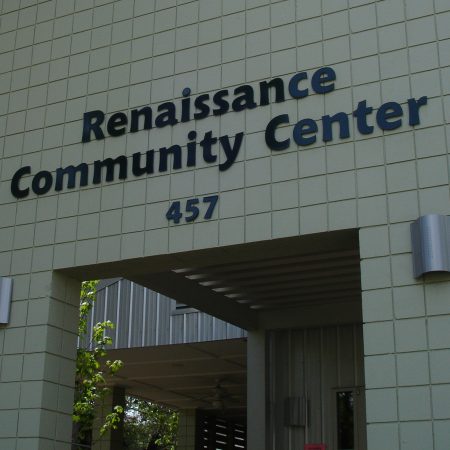 The Florida State University College of Social Work is combining its expertise in providing professional social work skills with community resources in a first of a kind initiative using student-developed entrepreneurial business models to aid social services organizations and the Tallahassee community in identifying comprehensive solutions to local homelessness.
Florida State students are an integral part of the initiative by serving as social work interns with various providers of social services to the homeless, while other students and graduates were recruited by the Florida State University Foundation to develop entrepreneurial business models designed to create sustainable employment opportunities for the homeless.
The initiative includes the Renaissance Community Center, a new facility located next to The Shelter for the homeless on Tennessee Street in downtown Tallahassee that provides a multitude of social and other services for homeless individuals at a single location. Rick Kearney, CEO and president of Mainline Information Systems, provided funding for construction of the center. He was also behind the Westgate housing project farther west on Tennessee Street, which will eventually see the creation of more than a dozen affordable housing units for the homeless.
"The vision behind all of this is to produce comprehensive, sustainable, organically developed model solutions to homelessness combining the skills drawn from the academic, private, public and not for profit sectors of Tallahassee that can potentially be replicated throughout the country," said Tomi Gomory, associate professor in the College of Social Work. "Students are an essential part of the process in terms of helping deliver services to the homeless at the Renaissance Community Center and by developing the entrepreneurial business models that will result in sustainable employment for homeless individuals."
One of the business models that has already been developed and implemented involves hiring homeless people to install a fence around the Westgate housing project. Aside from earning wages for their labor, the homeless workers are learning practical job skills that could result in sustainable employment beyond this project.
"FSU students and graduates are at the core of this initiative, providing for the social services needs of the homeless and developing business models to assist them from an employment and economic perspective," said Gus Ray, Senior Director of the Florida State University Foundation. "It is a win-win proposition for all concerned."
"This is a very practical multi-faceted endeavor involving Florida State University, the FSU Foundation, social services providers, business partners and others," Gomory said. "I don't believe this type of comprehensive approach to the homelessness issue is being tried anywhere else."