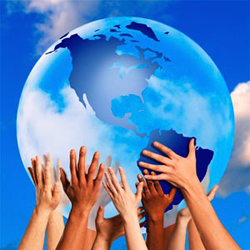 With Homecoming Week 2011 in full swing, the Florida State University Center for Global Engagement and FSU International Programs will host the fifth annual "FSU's Going Global" showcase on Wednesday, Nov. 16, at the Center for Global and Multicultural Engagement, also known as The Globe.
This year's Going Global theme: "Where Homecoming Takes On a Whole New Meaning!"
"Since FSU's 2011 Homecoming theme is 'Seminole State of Mind,' we're inviting everyone to visit The Globe this week to learn how their state of mind can be transformed by a global experience," said Center for Global Engagement director Cynthia Green.
Wednesday's Going Global showcase is intended to demonstrate Florida State's support of International Education Week — a joint initiative of the U.S. Department of State and the U.S. Department of Education that this year is celebrated across the nation Nov. 14-18.
The Going Global showcase will take place:
WEDNESDAY, NOV. 16
3-5 P.M.
THE GLOBE
110 S. WOODWARD AVE.
FSU CAMPUS
In addition to a reception with international hors d'oeuvres, the showcase will feature a variety of student presentations on international experiences such as service, internship, research, and exchange and study abroad programs. Numerous Global Photo Competition photos also will be displayed in The Globe's "Reflections" Art Gallery and throughout the building.
Provost and Executive Vice President for Academic Affairs Garnett Stokes and Vice President for Student Affairs Mary Coburn will open the showcase with brief remarks on Florida State's commitment to and appreciation of international education.
For directions to The Globe and a campus map, click here. To learn more, contact Aleksandra Nesic at (850) 645-4793 or anesic@admin.fsu.edu.