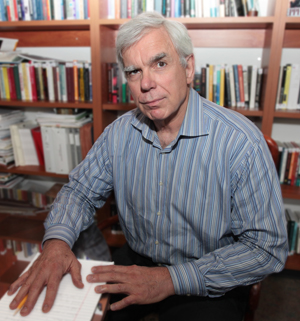 In the mid-1980s, Lawrence J. "Larry" Polivka began thinking of research pioneer Carter Osterbind as a mentor while working with him on former Gov. Bob Graham's Florida Committee on Aging.
This past August, Polivka received the Dr. Carter Osterbind Outstanding FCOA Member Award from the Florida Council on Aging during its 2011 annual conference. Polivka is the executive director of the Claude Pepper Center and scholar-in-residence with the Claude Pepper Foundation at Florida State University.
"I have great regard for Carter," Polivka said. "He has been the model I have tried to emulate in my own professional life since 1984. Because this award is named for Carter Osterbind, I consider it the finest award that I could receive."
The Osterbind award is given to FCOA members in good standing whose activities on behalf of older adults in Florida reflect a high level of individual commitment or high standard of organizational excellence. In the award citation, the Florida Council on Aging called Polivka a "strong aging services policy advocate, researcher and teacher who exemplifies the spirit of Carter Osterbind."
Osterbind was a University of Florida economist who began conducting pioneering research on age-related issues in 1950.
"He was probably the first person to do any analytical work related to the growth of Florida's older population, which began to move here for retirement in the 1960s and 1970s," Polivka said.
Polivka credits the close working relationship that he and Osterbind forged on the Florida Committee on Aging as the key factor in deciding to spend his own career analyzing demographic trends among Florida's aging population.
"Carter taught me long ago that if you want to know where aging policy is headed, you need to understand changes and trends in the economy and the political environment," Polivka said. "His research was rigorous and productive. Throughout my career, I have approached my own work by asking myself what Carter would have done, or what substantive policy questions he would have had.
"Much of the work I've done in developing analytically based issue papers and advocacy papers, and in doing policy-related research into areas such as long-term care, carries on in the tradition of Carter Osterbind as a scholar and as an advocate," Polivka said.
Polivka's work with his colleagues at the Pepper Center currently focuses on creating more consumer-friendly long-term care programs and systems, as well as addressing emerging challenges in retirement financial security.
Before coming to the Pepper Center two years ago, Polivka worked for 17 years as the founding director of the Florida Policy Exchange Center on Aging at the University of South Florida. He earned his doctorate in sociology from Florida State in 1984.
To contact Polivka, call him at (850) 645-7835 or send an email to lpolivka2@fsu.edu.