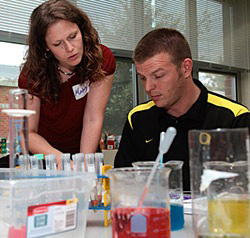 A new, $3.64 million professional development program designed and implemented by the Florida Center for Research in Science, Technology Engineering and Math (FCR-STEM) at Florida State University will help middle- and high-school teachers cope with the ever-growing body of science knowledge and evolving educational standards and assessments.
Focusing on life and Earth sciences, the project is dubbed Biology Institute and Online Support: Collaborative Opportunities to Promote Excellence in Science — or BIOSCOPES for short. Over the summer, professors from Florida State's College of Arts and Sciences will train 200 teachers across 17 Northwest Florida school districts by partnering with the Duval and Escambia school districts, as well as the Panhandle Area Educational Consortium (PAEC), a teacher network that provides leadership, support and services within the region.
Biologist Joseph Travis, dean of the College of Arts and Sciences, is heading the effort. Funded by the Florida Department of Education's Math and Science Partnership, BIOSCOPES is filling an acute educational need, Travis said.
"Student achievement in math and science in Florida lags behind that in many other states," said Travis, "and yet Florida has a growing need for a work force capable of filling jobs in those areas." A just-released strategic plan compiled by FCR-STEM in collaboration with state business, education and industry leaders identifies teacher professional development as a key strategy to improving STEM education here.
FCR-STEM is jointly administered at Florida State by the College of Arts and Sciences, the College of Education and the Learning Systems Institute (LSI). LSI has extensive experience in researching and implementing teacher professional development, and several LSI experts — director Laura Lang, associate director Rabieh Razzouk, assistant director Mabry Gaboardi and research associate Danielle Sherdan — are on Travis' BIOSCOPES team as co-principal investigators. Together they developed a training program designed to avoid the shortcomings that have undermined some previous efforts.
First, BIOSCOPES coaches educators on the science material they are teaching, as well as teaching skills. Studies suggest that offering one type of training without the other yields modest results at best.
"When you teach without content, you teach without context, making it difficult for those lessons to stick," Gaboardi said.
Second, the program will extend beyond the initial two-week summer sessions. Research has shown that short-term professional development has limited effects on student achievement. BIOSCOPES, however, will feature follow-up sessions during the school year in which participants will work in teams to study the effects of standards-based lessons on students' scientific thinking skills. As part of this "lesson study" cycle, teachers will actively observe students and each other in action, a powerful process that opens their eyes to what makes good teaching for learning, said Brenda Crouch, an instructional delivery consultant with PAEC.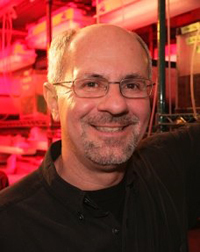 "In every lesson study I've ever facilitated, this has been a time of 'aha moments' and rich reflection about student thinking and learning," said Crouch, who has collaborated with FCR-STEM on similar training in the past.
A third key feature of BIOSCOPES is the use of instructional technology to bridge distance and knowledge gaps, providing ongoing, as-needed support and resources to teachers. Participants will attend monthly webinars and take advantage of specially designed content, including a Lesson Study Support System, on CPALMS, a free, online, standards-based resource system developed at FCR-STEM and used widely by science and math teachers around the world.
BIOSCOPES participants, many of whom work in rural school districts, hope the training will prepare them for end-of-course exams in biology that Florida students must take beginning next spring, said Crouch.
"Science teachers are constantly challenged, because science content is an ever-changing landscape," she said. "Much of the work is highly technical and requires considerable expertise to interpret, especially for high school teachers."
Fortunately for these teachers, plans call for BIOSCOPES to continue beyond this first year. Several million dollars more in funding is slated for the project that, if allocated, would extend it for two more years and cover additional science topics. Still, however long the project, its effects should be lasting.
"This project emphasizes helping teachers examine their own practice and work together to support one another," Travis said. "We want teachers to develop collaborative networks so that, even when this project ends, they will be able to continue to help one another grow and improve."
To learn more about the BIOSCOPES project, contact Travis at (850) 644-5434 or jtravis@fsu.edu, or Gaboardi at 850 (766-4920) or mgaboardi@lsi.fsu.edu.