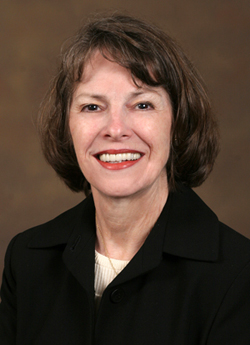 The nation's Board on Human Sciences (BoHS) has elected a new chairwoman. She is Professor Billie J. Collier, dean of the Florida State University College of Human Sciences and a leader in the field whose administrative, research and academic credentials have distinguished her at the national and international levels.
Collier will serve a one-year term from 2010 to 2011 as chairwoman of the nine-member Board of Directors that governs the BoHS. Her recent election as head of the board followed her service since 2006 as one of its directors.
Part of the Association of Public and Land-grant Universities, the BoHS is an association of administrators who oversee higher education units in the human sciences at state and land-grant universities across the United States.
"The BoHS is at the helm of efforts to strengthen human sciences research, outreach and teaching, so I feel both honored and excited to have been chosen as Board of Directors chair for the next year," said Collier, a professor of textiles and consumer sciences at Florida State as well as a dean. "Together, we will continue to focus on advocacy for the profession, and on public policy."
Florida State's College of Human Sciences has been a member of the BoHS since it became a forerunner to the present board in the early 1980s, according to Collier.
"The approximately 50 BoHS member institutions from across the nation include leading colleges and schools of human sciences, such as ours, doing cutting-edge work that supports and enriches the everyday lives of Americans," she said.
Among the fields that generally comprise the human sciences discipline are consumer education; consumer finance; food and nutrition; human development and family studies; interior design; and textile and apparel studies.
Before coming to FSU in 2006 as human sciences dean, Collier was the associate vice chancellor for research compliance at the University of Tennessee-Knoxville, following two years as its interim associate vice president for research. She also served from 2002 as the director of UT-Knoxville's Textiles and Nonwovens Development Center, and previously was the associate dean for research and graduate studies and a professor of consumer and industry services management in the College of Human Ecology. Prior to joining the UT-Knoxville faculty, Collier was a member of the human ecology faculty at Louisiana State University from 1988 to 1999, serving as director of LSU's School of Human Ecology from 1994 to 1999.
In 2008, Collier was appointed to her third term as consumer adviser on the United States Department of Agriculture Cotton Board by then USDA Secretary Ed Schafer.
Collier is the co-author of two published textbooks, including "Understanding Textiles," now in its seventh edition. She received her bachelor's degree in music from Tulane University in 1966 and, at UT-Knoxville, earned a master's degree in textiles and clothing and a doctorate in home economics in 1976 and 1981, respectively.
The Florida State University College of Human Sciences encompasses three departments — nutrition, food and exercise sciences; textiles and consumer sciences; and family and child sciences — that currently enroll a total of more than 3,000 undergraduate and graduate students. The college's wide range of academic programs are enriched by advanced technology; a large study abroad program; nationally recognized research faculty, including two Fulbright recipients; and outreach through the Family Institute. Learn more at https://humansciences.fsu.edu/.