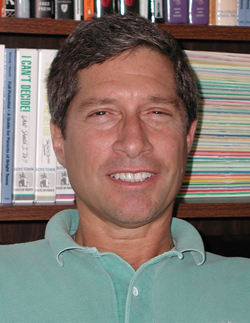 A diagnostic test developed by a Florida State University education professor has been selected by the New York City Department of Education for use in determining whether students in that city's schools are gifted.
"It was extremely gratifying and humbling that New York City schools—the largest school district in the United States, with 1.2 million students—decided to adopt my test for use in identifying their gifted students," said Steven I. Pfeiffer, a professor in FSU's department of educational psychology and learning systems. "With more than 400 school districts nationwide now using the Gifted Rating Scales (GRS), the addition of New York City schools increases the prospect of other school districts, large and small, using the GRS. This is a wonderful and exciting opportunity."
According to Pfeiffer, the GRS will replace the intelligence quotient (IQ) tests traditionally used throughout New York City schools. Harcourt Assessment Inc., publisher of the scales, recently announced an agreement with the school system that would provide testing through the GRS for the next five years. Pfeiffer co-authored the scales in 2003 with Tania Jarosewich—then one of his postdoctoral research associates—as a faculty member and executive director of the gifted program at Duke University.
The Gifted Rating Scales is a teacher rating scale designed to help identify gifted students and is based on a multidimensional model of giftedness. By design, GRS minimizes observational bias and increases measurement accuracy. There are two forms: the GRS-P (for preschool/kindergarten level) and the GRS-S (designed specifically for students in grades 1-8).
The GRS measures students' aptitude in six areas:
Intellectual Ability: measures the child's verbal and nonverbal mental skills and intellectual competence. Items on this scale rate the child's memory, reasoning ability, problem solving and mental speed.
Academic Ability: measures the child's skill in dealing with factual and/or school-related material. Items rate readiness and advanced development/proficiency in reading, math and other aspects of the early childhood curriculum.
Creativity: measures the child's ability to think, act and/or produce unique, novel or innovative thoughts or products. Items rate the child's imaginative play, original thinking and inventive approach to situations or problems.
Artistic Talent: measures the child's potential for, or evidence of ability in, drama, music, dance, drawing, painting, sculpture, singing, playing a musical instrument and/or acting.
Leadership: measures the child's ability to motivate people toward a common goal.
Motivation: refers to the child's drive, tendency to enjoy challenging tasks, and ability to work well without encouragement or reinforcement. The motivation scale is not viewed as a type of giftedness, but rather as the energy that impels a young child to achieve.
"We are gaining new insights and understanding of the construct of giftedness," Pfeiffer said.
Pfeiffer, along with colleagues and students, has a number of research projects surrounding the GRS under way in the United States and in other countries, including China, Turkey and South Korea, to investigate how well versions of the test translate and measure in the native languages of those countries.
GRS validation studies have been accepted for publication in leading professional journals including Gifted Child Quarterly, which has accepted three GRS validity studies; the Journal of Psychoeducational Assessment; and the Roeper Review.
"Dr. Pfeiffer's work in this area is having a worldwide effect on the methods of classifying students as gifted," said Marcy P. Driscoll, dean of the FSU College of Education. "His research continues to be validated and advances with each study he and his colleagues pursue."
Pfeiffer is professor and director of clinical training in the doctoral program in counseling and school psychology, offered by the department of educational psychology and learning systems at FSU. More information about the program and others offered through the College of Education can be found online at www.coe.fsu.edu.