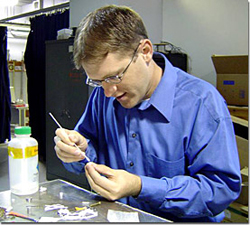 Three Florida State University programs have joined forces to research how to better prepare teachers to combat science illiteracy in the United States—and they are receiving a helping hand from the National Science Foundation (NSF). Through a $2.4-million award, FSU's College of Arts and Sciences, College of Education and National High Magnetic Field Laboratory will study how to more effectively train teachers in the inquiry processes that are at the core of science and central to science teaching.
The National Science Board reported in January of this year that it is "absolutely essential for our nation's long-term prosperity and security that we remain a world leader in science and technology…(yet) our nation continues to slip further behind in the science and mathematics achievement of U.S. students relative to international peers." The board added that the critical lack of technically trained people in the United States can be traced directly to poor K-12 mathematics and science instruction, and it called for a higher-quality science and mathematics teaching force as the key to closing the achievement gap. The FSU project is aimed at helping to define key components in educating that teaching force.
The Office of Science Teaching Activities in FSU's College of Arts and Sciences and the Center for Integrating Research and Learning at the National High Magnetic Field Laboratory both have developed six-week summer programs to give teachers the opportunity to increase their own scientific knowledge and sharpen their skills at teaching science through hands-on research and experimentation. They are joined by a third partner, FSU's College of Education, to determine how effective such professional-development programs are in showing teachers how to implement the "inquiry learning" approach called for by such organizations as the National Science Board and the National Academy of Sciences. Inquiry learning uses a child's natural curiosity to develop a greater understanding of scientific concepts; it is generally acknowledged as more effective than traditional classroom approaches such as repetition or rote memorization of "facts."
"As the U.S. economy evolves, the demand for workers with strong math and science skills continues to grow," said Ellen Granger, director of the Office of Science Teaching Activities and principal investigator on the NSF grant. "Meanwhile, American students perform relatively poorly in math and science when compared to their peers in other industrialized nations—and the number of Americans pursuing careers in science and engineering has seen a decline. Furthermore, we need a general population that is scientifically literate so that they can understand scientific issues underlying social and political problems and make decisions based on scientifically informed ideas."
Granger's co-investigators on the NSF grant are Patricia J. Dixon, director of the Center for Integrating Research and Learning, and Sherry Southerland, an associate professor of education and program coordinator of the Science Education Program.
"For many teachers, this is their first experience in authentic science research," Dixon said of the magnet lab's summer program. "For them to be able to observe, ask questions, and work toward a conclusion to a problem in a laboratory setting goes a long way, we believe, in helping them to develop their students' appreciation for scientific inquiry. How can you teach what you have not had the opportunity to fully come to understand yourself?"
Southerland will seek to identify the essential features of such programs and their influence on teachers' conceptions and use of inquiry teaching. Toward the middle of the five-year study, her focus will shift to the effectiveness of inquiry to support student science learning when compared to the learning of students in classrooms of teachers who lack such training.
"We need to learn more about how to structure this type of professional development and about its effects on teachers and their students, so that we in turn can learn to better support teachers in developing the teaching skills that are needed if our students are to become knowledgeable about and capable in science," Southerland said.
"Collaborative efforts of this nature are crucial to obtain reliable data and determine the direction of the future of education," said Marcy P. Driscoll, dean of the College of Education. "We think this research will be a valuable tool in advancing professional development for teachers in science education and perhaps other areas as well."