Two College of Business students saw to it last week that business schools throughout the country would take stock of Florida State University.
Sophomore Mason Pullum and junior Cole Clemons, both finance majors, tied for first place with a team from Virginia's Washington and Lee University in the 9th annual Student Managed Investment Fund Stock Pitch competition at the University of Georgia's Terry School of Business.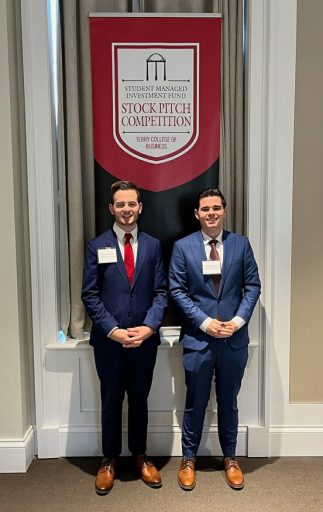 The event attracts teams from prestigious schools all over the country, including the Ivy League. In the final round of competition last week, Pullum and Clemons topped teams from Princeton University, the University of Massachusetts, Georgia Tech, the University of Kentucky, and last year's champion, the University of Florida.
Pullum and Clemons will share a first-place prize of $2,500 for their analysis and recommendation of stock in U-Haul, an American moving truck, trailer and self-storage rental company.
"We congratulate Mason and Cole for demonstrating two hallmarks of the College of Business – competitive spirit and success," said Michael Hartline, dean of the college. "These terrific students perfectly reflect our commitment to excellence and rise to preeminence."
Gary Bliss, a senior lecturer and the team's competition sponsor, added: "This is an incredible win for the College of Business and the finance department as students from FSU demonstrated they can compete against anyone. For a team from FSU to walk away with top honors is a tribute to the quality of our students and our programs."
Bliss emphasized that Pullum and Clemons took the initiative to enter the competition and that they completed their analysis on their own.
"I was just there for moral support," he said.
The competition required teams to offer investment recommendations – "grounded in high-quality, fundamental research" – on the stock of a company valued at more than $1 billion in market capitalization.
Pullum and Clemons liked what they saw in U-Haul. As MarketWatch notes, U-Haul Holding Co. operates through multiple business segments: moving and storage, property and casualty insurance, and life insurance.
FSU's duo found that "U-Haul's business segments work together in a lot of ways that investors weren't seeing," Pullum said.
They spent night after night working together in Strozier Library, sometimes until 2 a.m., on a presentation that analyzed each of the company's segments and evaluated the business. Their work included phone calls with various fund managers who hold the stock or know it well.
"Our thesis was all of these businesses that U-Haul operates work together, and U-Haul's really strong brand sort of ties the bow," Pullum said. "And because of that, it's undervalued."
"U-Haul really has no direct competitors offering services the way they do," Clemons said. "So, it really came down to a great business unnoticed by investors that we could tell a very strong and convincing narrative around."
The teammates said they got feedback on their presentation from Bliss and LJ Mahon, a senior lecturer in the Department of Finance. Bliss said Mahon provided especially strong input.
The event included a first-round presentation of up to 12 minutes and a final-round presentation of up to 15 minutes. Both rounds included a question-and-answer session with judges.
"They demonstrated an incredible work ethic to complete a complex project and compete against top schools around the United States," Bliss said.
In addition to finance, Pullum is majoring in accounting and economics, and he's vice president of FSU's student-led Financial Management Association. Clemons is a member of Noles on Wall Street, a highly selective, yearlong program for students interested in investment banking.
"I think winning really validated a lot of the work that we do in student organizations and as students majoring in finance," Clemons said. "To compete against these top schools and uniquely talented teams and come out on top shows the impact of the work we've done at FSU and all we've gotten from the alumni network — and that we can compete on this high level."