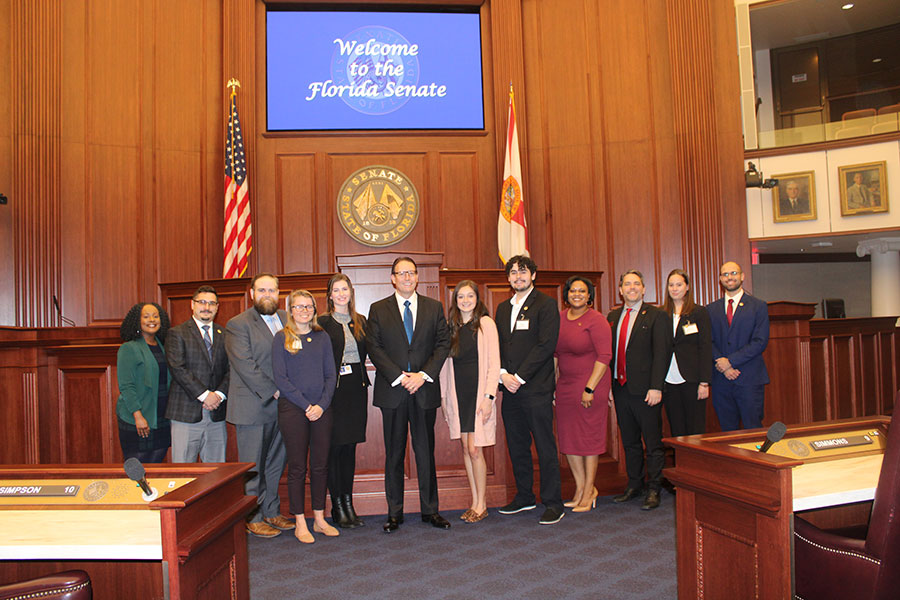 In a recent survey of U.S. adults, 64 percent of respondents said they would not want their children going into politics, yet after 20 years as a graduate degree track at Florida State University, the Master of Applied American Politics and Policy (MAAPP) program remains strong, counting 400-plus alumni and no shortage of students seeking practical, hands-on training as political professionals.
Despite the negative view of politics today, Robert Crew, MAAPP founder and director, believes it's more important than ever for skilled, dedicated individuals to enter the political arena.
"Around the world, the depths of disenchantment is so serious that it casts doubt on the legitimacy of representative politics, and here we are trying to entice you into this profession," he told students in the program. "Why do we do this? Because we believe that the business of making democracy work is of utmost importance. We believe that politics is a good and noble profession. So I don't care what your mother says. Stay with it and keep up the good work."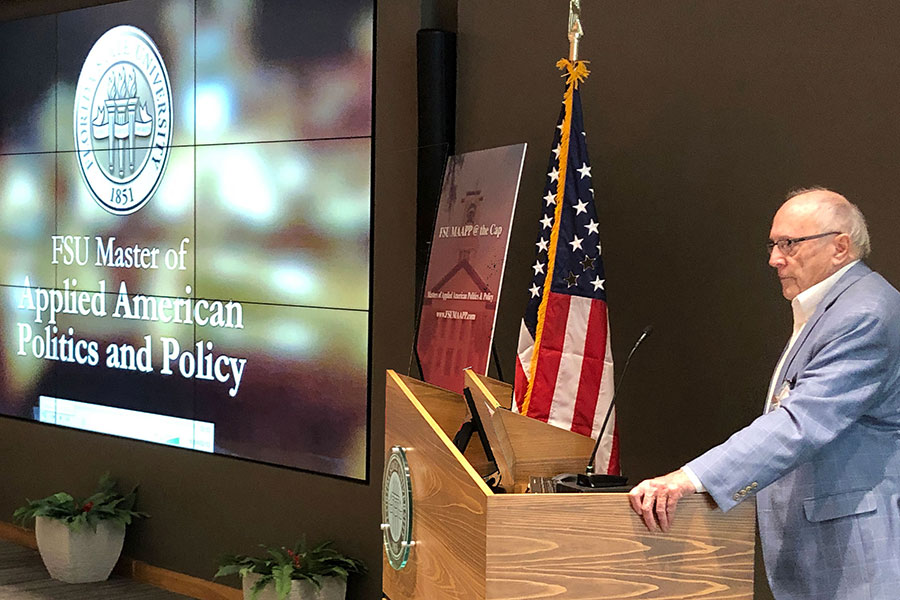 Crew, who also serves as associate dean of the FSU College of Social Sciences and Public Policy, spoke to students currently enrolled in MAAPP, as well as faculty and alumni, at a luncheon during a day-long event on Jan. 23 to mark the program's anniversary and offer a first-hand view of the Florida political system.
Dubbed "MAAPP @ the Cap," the event gave students the chance to interact with alumni in high-level staff positions in the Florida cabinet and legislature, gaining insight into state and local politics and the career paths open to them.
"After 20 years, it's important to stop and celebrate the growth of the program and the achievements of our more than 400 alumni," said MAAPP instructor Brad Kile, who organized the day's activities. "Their success sets the bar awfully high for our 43 current students, but we know that through hard work in the program, there are no limits on what they can achieve in their own professional career."
The 36-hour non-thesis program includes 12 hours of coursework and 12 credit hours of an internship/practicum.
Traditionally, graduate programs in political science are designed for individuals interested in academia and research. MAAPP offers real-world experience and a diverse set of skills for those seeking careers as operatives in a range of fields, including campaigns, fundraising, political communications, lobbying and legislative affairs.
The program also distinguishes itself from other graduate programs in politics by employing instructors who work in politics by day. Teachers like longtime lobbyist and former gubernatorial aide Jon Costello and fundraiser Beth Matuga, both MAAPP alumni, bring their knowledge and experience to the program's evening courses.
"This creates a real-time, real-world dynamic offering a one-of-a-kind educational experience of applied learning," said Kile, director of Experiential Learning for the FSU political science department.
MAAPP @ the Cap began with a morning of tabling in the Capitol atrium, attracting legislators, staff and the general public to learn more about the program, followed by the luncheon at the downtown Tallahassee location of the Jim Moran College of Entrepreneurship.
In addition to MAAPP faculty and students, the luncheon included several special guests, among them COSSPP alumni David Coburn, FSU Athletics Director; Jay Revell, Director of Public Policy and Advocacy for the Tallahassee Chamber of Commerce; and Tallahassee Mayor John Dailey, who spoke enthusiastically about the impact of local government and encouraged students to seek careers at that level.
The luncheon was also a time to honor Crew, described by Dean Tim Chapin in his introductory remarks as "the true visionary, leader and driving force behind the creation and the thriving of this program."
Crew's firm belief in the value of the political process was echoed by guest speaker John Thrasher, president of the university.
"It's easy to be disheartened by the polarization we have in America today, but I encourage you to stay the path," Thrasher said. "We need you more than ever. What you're doing matters."
Following the luncheon, students returned to the Capitol to visit MAAPP alumni working in various state offices, among them 2017 graduate Max Flugrath, press secretary for Commissioner of Agriculture Nikki Fried.
"You never know who you're going to meet, what you're going to learn, what you're going to figure out about yourself," he told students. "There are so many creative avenues to explore."
The program also attracts working professionals seeking further training, experience and an advanced degree in their field. Current student Carlecia Collins is working toward her MAAPP degree while coordinating board and council appointments in the office of Senate President Bill Galvano.
"The program is a tremendous benefit for those seeking to further their education through an advanced degree," Collins said. "As a returning student, having worked in politics since 2008, I have found the MAAPP program to be a great way to refresh and expand my knowledge and understanding of the political process in meaningful way."
In addition to MAAPP, the College of Social Sciences and Public Policy offers eight other applied, professional master's degree programs in a range of disciplines. For more information, visit https://coss.fsu.edu/prospective-students/applied-and-professional.