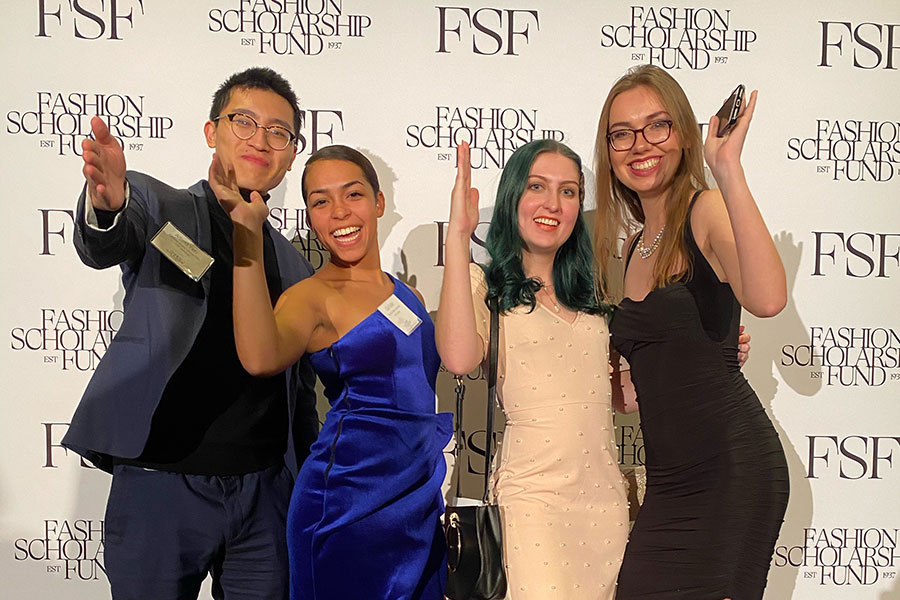 Four Florida State University students earned scholarships and a glitzy trip to meet fashion-industry insiders, earlier this month.
Juniors Lily Fuller, of Ashland, Massachusetts and Alfred Yeh, of Orlando, along with seniors Nadia Love, of Clermont, Florida, and Zuzanna Szulc, of Miami, earned $5,000 scholarships from the Fashion Scholarship Fund, a national nonprofit dedicated to promoting education of the fashion arts and business.
And when you win a coveted scholarship in fashion, where else do you go to celebrate but New York City?
As part of the win, the FSF flew the students to New York earlier this month for a celebratory gala, tours of businesses and meet-and-greets with fashion-industry insiders. Fuller, Yeh and Love are retail entrepreneurship majors in the Jim Moran College of Entrepreneurship, while Szulc is majoring in marketing in the College of Business.
To earn the trip and the scholarship, each participant in the competition developed their own case study featuring plans for pairing up a fashion company with a company that's not fashion related.
Love said she didn't know exactly what she was signing up for when she submitted her case study.
"I wasn't expecting to win or anything," she said. "I will say that I didn't really know that much about it before I went and then realized what a big deal it was."
The experience is one Love said she'll carry with her.
"To be part of a group of people who are so talented — the other projects were so good — it was so cool to be in this group," she said.
The FSF's mission is to advance the fashion industry by encouraging gifted and enterprising young people to pursue careers in design, merchandising, retailing and business to ensure the industry will continue to attract dedicated, capable and creative individuals.
Szulc said the contest helped the FSF achieve that mission.
"I've learned there is so much more to the fashion industry than I thought," she said. "I'm pursuing a degree in marketing and never realized how much influence marketing has on the fashion industry.
"This definitely opened me up to not only enjoying and appreciating this industry but also giving me the resources so that, in the future, I can pursue something in the industry."
For more information visit www.fashionscholarshipfund.org, the marketing department at the FSU College of Business and Retail Entrepreneurship at the Jim Moran College of Entrepreneurship.