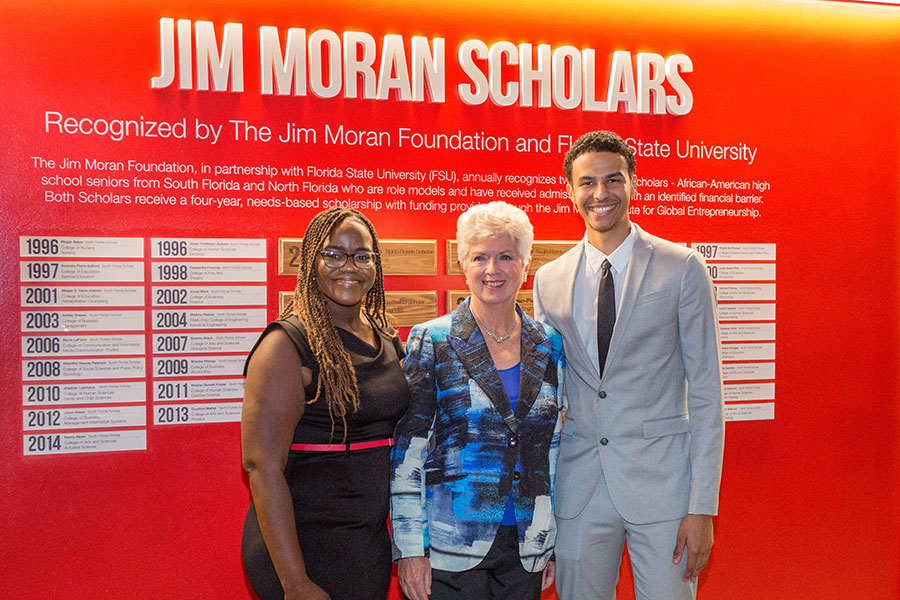 Florida State University recognized freshmen Kiara Guerrier and Alejandro Robins as 2019 Jim Moran Scholars Wednesday.
Jim Moran Foundation Chairman and President Jan Moran and FSU President John Thrasher celebrated the scholars during a private reception held at the Jim Moran Building in downtown Tallahassee.
Each year, the Jim Moran Foundation and FSU recognize two exemplary African Americans who have been admitted to the university, with one graduating from a South Florida high school and one from a North Florida high school.
Jim Moran Scholars receive a four-year, needs-based scholarship with funding provided through the Jim Moran Institute for Global Entrepreneurship, housed in the College of Business at FSU.
"Kiara and Alejandro have demonstrated intelligence, leadership and a strong desire to pursue higher education," said Bruce Lamont, Jim Moran Eminent Scholar in Business Administration in the College of Business and director of Research at the Jim Moran Institute. "It is an honor to help them reach their potential and provide a stepping stone to a lifetime of professional and personal accomplishments."
Guerrier graduated at the top of her nursing magnet program at Inlet Grove Community High School in Riviera Beach and earned college credits through Palm Beach State College's dual enrollment and early admission program. She regularly volunteered through the National Honor Society, Key Club and her church. A first-generation college student, Guerrier plans to study nursing at FSU to become a neonatal nurse practitioner and help mothers and infants in poverty-stricken areas. She hopes to set a positive example for her little sister and other children.
Robins graduated from Mandarin High School in Jacksonville and Florida State College's Dual Enrollment Program. He credits his family and his varsity basketball coaches for teaching him how to communicate and work well with others — skills he often uses to encourage cooperation among teammates, friends and classmates. In high school, he participated in the National Honor Society, volunteered at community events and tutored other students. He is passionate about math and science and plans to major in engineering to become a biomedical engineer.
For more information on Jim Moran Scholars or the Jim Moran Institute for Global Entrepreneurship, visit jmi.fsu.edu.
About the Jim Moran Institute for Global Entrepreneurship
The Jim Moran Institute for Global Entrepreneurship cultivates, trains and inspires entrepreneurial leaders through world-class executive education, applied training, public recognition and leading-edge research.
Jim Moran was an automotive pioneer and an entrepreneur at heart, who at the age of seven, sold soda pop at sandlot baseball diamonds in Chicago. With a career that spanned more than six decades, he built an amazing chronicle of achievements in the automobile industry.
His vision for the Jim Moran Institute was to provide opportunities that would help others become more successful business owners. A 1995 contribution from Jim and Jan Moran and JM Family Enterprises established the Jim Moran Institute for Global Entrepreneurship at the Florida State University College of Business. Since 2011, further enhancements to the Jim Moran Institute and its outreach have been made possible by Jan Moran and The Jim Moran Foundation.
For more information, visit www.jmi.fsu.edu.