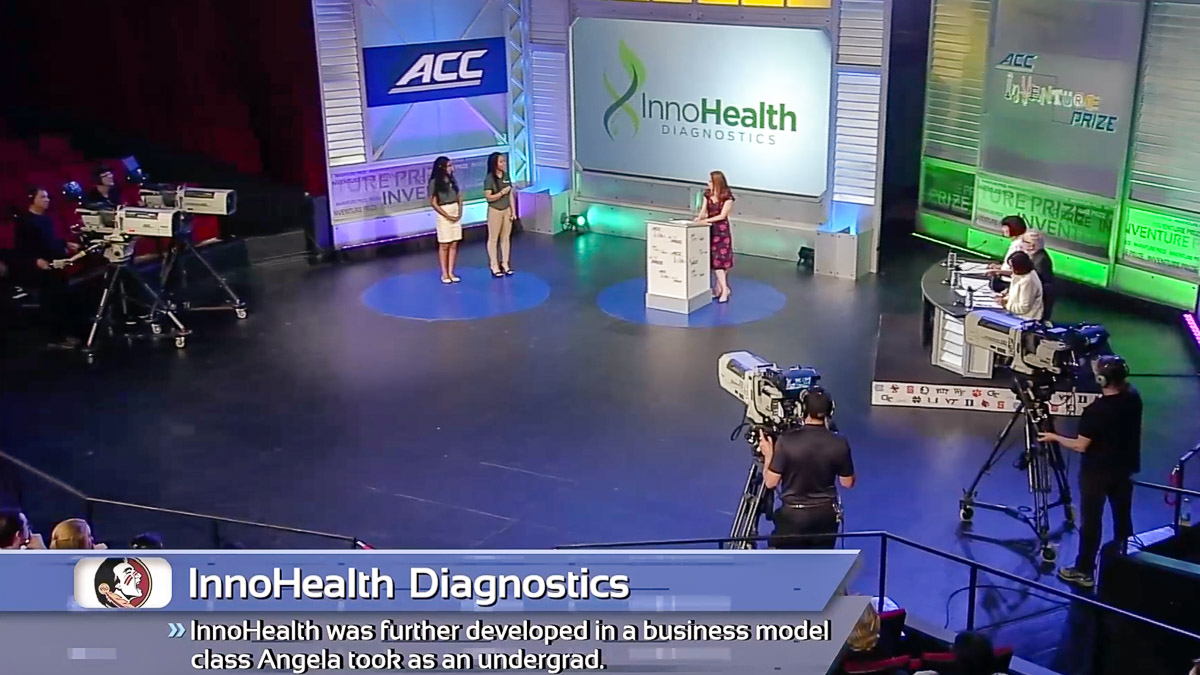 **APRIL 18 UPDATE: FSU's entrepreneurial team InnoHealth Diagnostics finished in the top 5 at the 2019 ACC InVenture Prize competition Wednesday night. The top award went to student-entrepreneurs from the University of Virginia, who also earned the People's Choice Award.
Ken Baldauf, director of FSU's Innovation Hub, said InnoHealth's student-entrepreneurs had a great experience, and it allowed them to meet other innovators and earn national recognition for their business.
"It was a tough competition!" Baldauf said. "Our team presented a flawless pitch but the University of Virginia team won both first place and the People's Choice Award. We are so proud of InnoHealth, who proved that they are competitive with the best of the best! Florida State appreciates the creative entrepreneurs of InnoHealth for all the time and effort they invested in the event."**
APRIL 17: A talented team of Florida State University student-entrepreneurs is moving ahead to the final round of a "Shark Tank"-style business competition, and you are urged to help them win an award tonight.
FSU's student-entrepreneurial team InnoHealth Diagnostics will participate in the Atlantic Coast Conference InVenture Prize competition at North Carolina State University in Raleigh starting at 8 p.m. The event will be streamed live at http://www.gpb.org/acc-inventure-2019.
Between 8:46 and 8:51 p.m., you can help FSU's team win the People's Choice Award by texting (770) 637-3005 or visiting https://p.excitem.com/s/play/n3563 and entering the keyword: INNO.
After winning FSU's InNOLEvation® Challenge competition last month, InnoHealth earned the opportunity to compete in the InVenture Prize Competition against 14 of the ACC's best student-entrepreneurial teams. Last night, members of InnoHealth made their pitch to a panel of judges, and the business advanced to tonight's final round along with Georgia Tech, Syracuse, Notre Dame and the University of Virginia.
InnoHealth was created to help safeguard people from tropical diseases by using an innovative DNA-based diagnostic tool. It specifically targets the tropical parasitic disease schistosomiasis, known as snail fever, and improves its early diagnosis.
Schistosomiasis is blamed for causing more than 200,000 deaths a year. It's estimated 260 million people have been infected worldwide. In Nigeria alone, 100 million people are at risk of infection, and 30 million are suffering from the disease. It is typically spread by contact with contaminated river water and without treatment, snail fever can cause stomach ulcers, bladder cancer and other serious health problems.
The student-entrepreneurs hope their innovative technology will lower the rate of schistosomiasis to less than 1 percent in Kano State, Nigeria. The entrepreneurs plan to eventually market their product in other countries.
Team members FSU senior Nkechi Emetuche from Orlando and recent graduates Clarens Jarbath (Tampa), Charles "Jack" Robbins (Homestead), and Angela Udongwo (Jacksonville), won the $10,000 grand prize at FSU's InNOLEvation® Challenge competition in March.