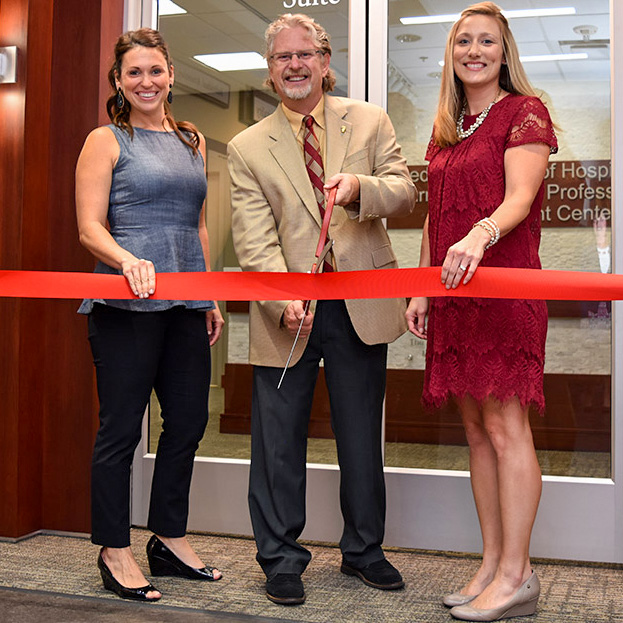 Florida State University's Dedman School of Hospitality hosted a grand opening of its Marriott Career and Professional Development Center with a ribbon-cutting ceremony and tour, Oct. 19.
The hospitality-focused center, established with a generous $2 million gift from The J. Willard and Alice S. Marriott Foundation, opened following three months of renovations to existing space at FSU's University Center. The state-of-the-art facility offers students opportunities to polish their interview skills, fine-tune résumés and cover letters, as well as network with industry leaders, recruiters and prominent alumni.
"We have a history of preparing students for great careers with top organizations in our industry," said Don Farr, director of the Dedman School of Hospitality. "Thanks to the gift from the Marriott Foundation, the Professional Development Center will locate, consolidate and expand activities that have helped our graduates establish a career-placement rate near 100 percent."
The Marriott Career and Professional Development Center will provide valuable hands-on experience that enhances in-class training. The facility will create new opportunities for students to take part in career-recruiting events, workshops, mentorships and internships. The center's activities are designed to help hospitality students connect with industry professionals and prominent alumni.
The ribbon-cutting celebration included distinguished alumni and friends of the school, such as Chief Operating Officer of the Tampa Bay Buccaneers Brian Ford ('89); CEO of 4 Rivers Smokehouse John Rivers ('89); CEO of Club Specialists International Jim Riscigno, ('66); Senior Vice President of Revenue Management and Global Distribution, Omni Hotels & Resorts Andrew Rubinacci ('91); Director of Nontraditional Development, Dunkin' Brands Inc. Chris Burr, ('82); Region President, Republic National Distributing Company Jay Johnson ('87); Instructional Specialist, Montclair State University Cyd Bougae ('75); and FSU Faculty Senate President and Professor Todd Adams.
The J. Willard and Alice S. Marriott Foundation, established in 1965, is dedicated to supporting exceptional nonprofit organizations. The foundation assists institutions that provide civic and human services, foster educational achievement, expand opportunities for youth and adults, develop the next generation of hospitality leaders and lead innovation in health and medicine.
About the Dedman School of Hospitality
Established in 1947, the Dedman School of Hospitality is a favored hiring source for managers of the world's leading hotels, restaurants, clubs and resorts. The school boasts a near 100 percent career placement rate among graduating students. It offers two undergraduate degrees — a Bachelor of Science in Hospitality and Tourism Management and a Bachelor of Science in Global Club Management. Students are also able to earn a minor in Hospitality Management.