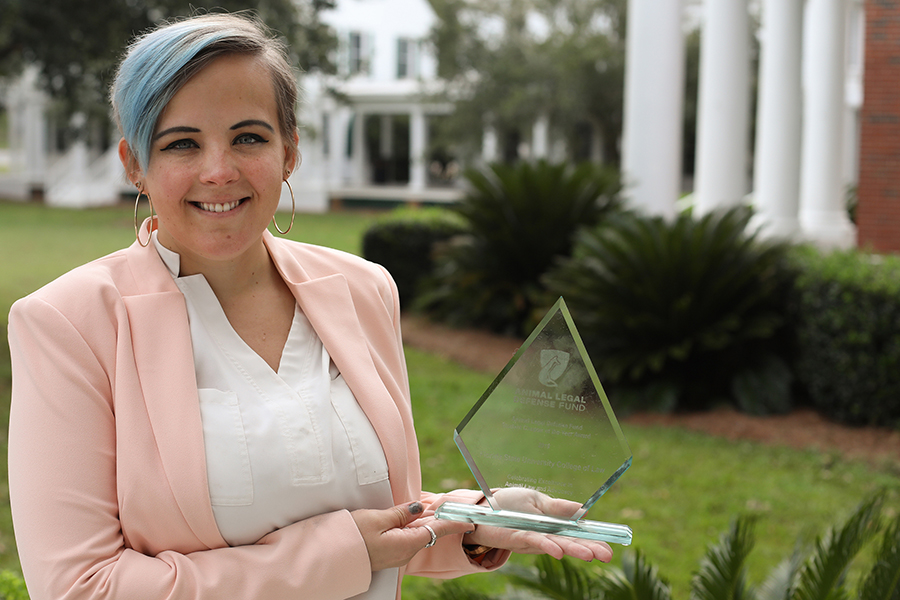 The Florida State University College of Law Animal Legal Defense Fund Chapter (FSU ALDF) has won the 2018 Chapter of the Year Award, presented by the Animal Legal Defense Fund. FSU ALDF was selected to receive the award from among hundreds of national and international chapters. The award recognizes an Animal Legal Defense Fund chapter that has shown incredible efforts in advancing the field of animal law and advocating for animals through original projects and initiatives. FSU ALDF also won the Chapter of the Year Award in 2014.
The 2018 award was presented Friday, Oct. 12, at the Animal Legal Defense Fund's annual Animal Law Conference in Chicago. Florida State law students Laurel Tallent, who serves as FSU ALDF president, Ashley Englund, Jasmine Henry and Judah Lieblich accepted the award at the conference.
FSU ALDF was honored following a year of many accomplishments. The organization hosted monthly lectures featuring prominent animal law experts, and screened two documentaries which were open to the entire FSU Law community and the public to increase awareness about animal law issues. In February, FSU ALDF participated in the national Justice for Animals Week, hosting daily breakfast presentations by law professors who spoke about how their areas of expertise interacted with animal law. During the week, FSU ALDF also welcomed lawyers for daily afternoon presentations on different areas of animal law. FSU ALDF also provided students with monthly opportunities to give back to the community, including a dog washing event that raised more than $500 for the Humane Society.
"We are thrilled that the work of our FSU Animal Legal Defense Fund has been recognized as exceptional at the national level," said Dean Erin O'Connor. "Congratulations and thanks go to the entire FSU ALDF board and especially to its president, Laurel Tallent, for her dedicated leadership and for Florida State's award-winning submission."
Also during the conference, Lieblich presented his award-winning paper, "Minimum Size Restrictions Are a Problem for Fisheries – Is Litigation the Solution?"