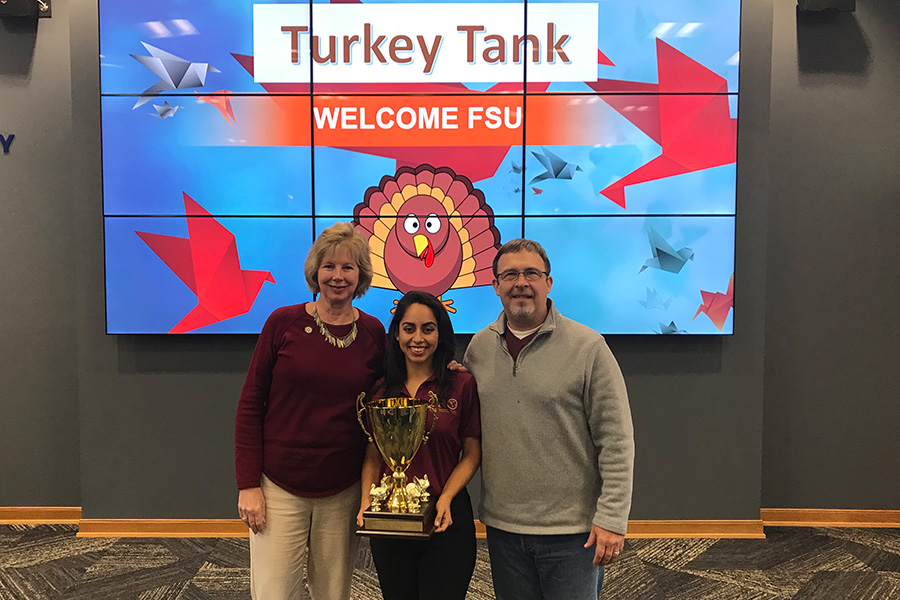 As Florida State University prepares for its football game against the University of Florida this Saturday, another competition between the schools already took place this week. 
And FSU's team came away with the win. 
Students from FSU's Jim Moran School of Entrepreneurship squared off against UF students in the first-ever Turkey Tank Competition in Gainesville Monday. The event challenged students to pitch an entrepreneurial project in just three minutes, and they faced added pressure because electronic presentations were off limits. 
FSU junior Hannah King, who's majoring in international affairs and minoring in social and commercial entrepreneurship, helped lead the team to victory with her idea for a community development center in Haiti called Read to Rise. The program, which King is developing with FSU senior Geranise Dorce, is designed to reduce the rate of illiteracy in Leogane, Haiti. 
Florida State's entrepreneurship roster also included Jack Shelgren, a senior majoring in entrepreneurship and minoring in computer science, and senior Zack Frapart, a double major in entrepreneurship and professional sales.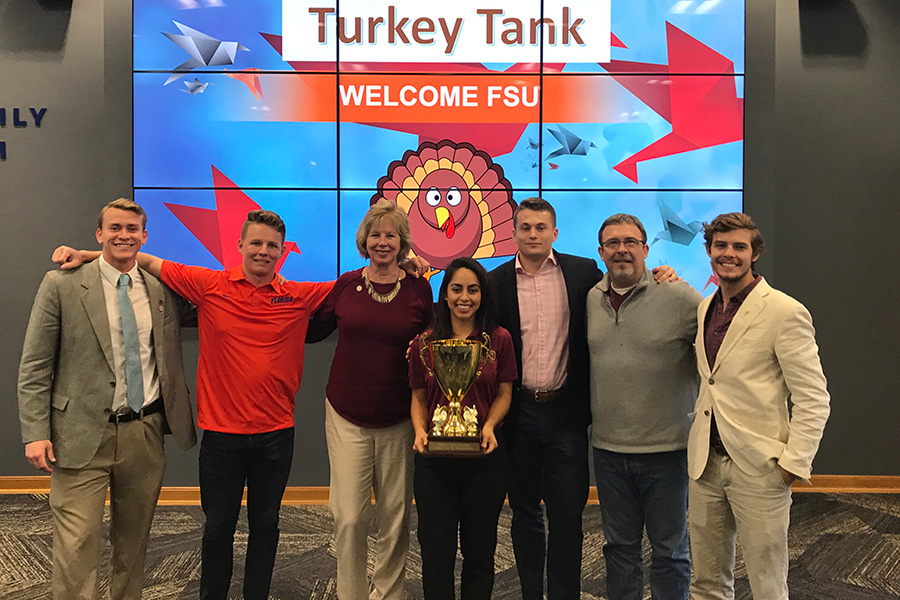 Wendy Plant, director of FSU's Center for Student Engagement at the Jim Moran School of Entrepreneurship, praised the students who made the friendly match a success. 
"We are looking forward to holding this fun competition every year," Plant said. "We think it's a great lead-in to the annual Thanksgiving rivalry football game." 
The University of Florida was represented by Austin Lile, Stefani Harrison and Sean Biava.  
"We congratulate FSU on the win, and we look forward to this competition becoming a long and storied tradition," said Parker Van Hart, director of the Entrepreneurship Master's Programs at the University of Florida's Warrington College of Business. "Anytime we can give our students a chance to practice their skills, it's a win for everyone." 
About the Jim Moran School of Entrepreneurship
In December 2015, Florida State University announced the creation of the nation's largest interdisciplinary, degree-granting school of entrepreneurship, the Jim Moran School of Entrepreneurship, as part of a major gift from Jan Moran and The Jim Moran Foundation. Students will participate in traditional case study learning along with innovative hands-on application and experiences. Students accepted in the inaugural 2017-2018 class will graduate with a Bachelor of Science or Bachelor of Arts in entrepreneurship.