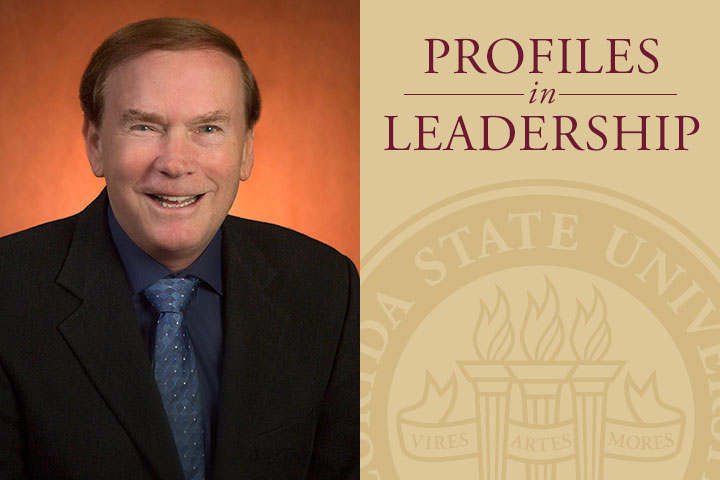 Thomas Blomberg has made it his mission to have a meaningful and transformative career, that at its core not only informs but actually helps people.
As dean of Florida State University's College of Criminology and Criminal Justice, he has made it his goal to ensure the college's research does the same — research that not only results in peer-reviewed articles but also positively impacts the citizens of this state, country and abroad.
It is a concept he refers to as "research brought to life" — a way of thinking that keeps the college among the most respected criminology programs in the nation. The college's faculty are ranked No. 1 in the United States for research productivity and are among the Top 10 for grant acquisition.
Answering questions surrounding some of society's toughest issues including cybersecurity, mass incarceration, community unrest, law enforcement and services for victims of serious crimes would seem overwhelming to many. However, for Blomberg, it's quite the opposite.
"It's exhilarating," said Blomberg, who is in his 14th year as dean of the college. "It's exhilarating to think you are doing something that can make a difference in society and the lives of our fellow citizens."
The California native began his college career pursuing civil engineering at the University of California at Berkeley. However, as an undergraduate student during the Vietnam era, he became interested in the impacts of war, civil disobedience, mass protests and crime.
"I drifted to the southside of campus where the social science departments were located and decided to take a sociology course," Blomberg said.
That sociology course on race and minority relations sparked his interest in society, its problems and the need for solutions. Soon after, he decided to change his major to sociology.
Blomberg said it was when he was completing a bachelor's honors thesis on imprisonment that he decided to pursue graduate studies in criminology. It was the words of Sheldon L. Messinger, then dean of the College of Criminology at Berkeley, that would ultimately influence his studies and now his work as dean at FSU.
Messinger believed that research that does not inform policy and practice is not meeting its full potential, Blomberg said. Specifically, if criminological research does not directly confront the pain and suffering caused by crime, it's not achieving its ultimate purpose.
Since coming to FSU, Blomberg has been named the Sheldon L. Messinger Professor of Criminology in honor of his mentor and risen to the position of dean, all the while making the concept — research brought to life — the guiding focus of his career and now the college.
"Throughout my years as a faculty member and now as dean, I have been able to teach and conduct research aimed at providing evidence-based policy and practice," he said.
One of Blomberg's major opportunities to bring research to life was the externally funded Juvenile Justice Educational Enhancement Program (JJEEP).
"Much of my early research was critical of the criminal justice system," Blomberg said. "My experience was that our incarcerated youth, historically, had been viewed as a disposable population. To the extent that they received an education — it was an inferior education, most often from teachers who failed in the public school system. As a result, the very population who needed quality education the most were getting the least."
JJEEP was aimed at elevating the quality of education that incarcerated youth were receiving in Florida through quality assurance and longitudinal research. The project affected countless young people and demonstrated numerous positive post-release outcomes associated with educational achievement.
Blomberg said the college received substantial funding from federal agencies to share its research and quality assurance policies and practices with other states throughout the country, and he was invited to give testimony to Congress on JJEEP's research findings and policy/practice recommendations.
Over the years, FSU's College of Criminology and Criminal Justice has continued to implement the concept of research brought to life. The creation of the Center for Criminology and Public Policy Research is among the college's biggest achievements during Blomberg's tenure as dean. He hopes to establish a series of research and policy institutes through the center.
Blomberg said each of the college's faculty members has expertise that can translate into a research and policy institute within the center. There are already institutes on corrections and juvenile justice, and the college is creating an institute on law enforcement to address current social trends and related issues between police and communities.
In addition, Blomberg plans to establish institutes for cybersecurity, victim services and elder financial exploitation. The college recently completed an in-depth study on elder financial exploitation in The Villages, the nation's largest retirement community.
The elder fraud research team, which includes Blomberg, has already presented their findings to lawmakers and retirement communities in the state. However, their work will not end there.
The next phase will examine other retirement communities around the nation, and in phase three, the researchers plan to survey 10,000 senior citizens who live outside of retirement home settings. They hope to advance what policymakers know about elder financial fraud, retirement, aging and issues that may leave elder Americans vulnerable to fraudulent schemes — ultimately leading to the development of evidence-based prevention policies and practices.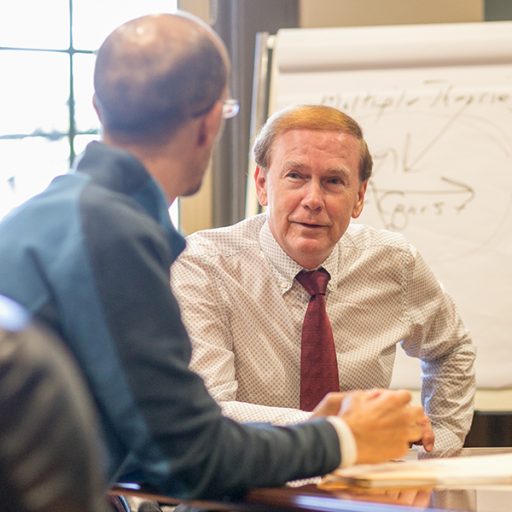 In the future, Blomberg sees FSU serving as a criminal justice data repository for the state and, in many cases, the country — a place where policymakers and criminal justice leaders can come for evidence-based answers to crime and criminal justice system questions.
"We want to be able to document what Florida has been doing for the past 30 years to confront crime and to project crime patterns for 2020, 2025 and 2030," Blomberg said. "For those unwanted projections, we can provide evidence-based policies and practices that can effectively confront them."
Blomberg and his faculty are also making plans to renovate facility space where public officials can meet with criminology faculty and students to discuss various issues and potential solutions related to crime and the criminal justice system.
The space would allow students to observe first-hand how FSU faculty are tackling pressing crime and criminal justice issues, proposing evidence-based solutions and how various groups, in particular local, state, or federal agencies can reduce unwanted outcomes.
Blomberg envisions a transformative teaching space that will host policymakers and criminal justice officials who collaborate with researchers and, together, work to translate research into effective policy and practice.
"We will provide the research evidence to help policymakers and practitioners with their problems, and while doing so our students — undergraduate and graduate — will be watching and learning how to bring research to life, because they are the future," he said.
The current initiative on cybersecurity is an excellent example of the college's efforts to bring research to life. In this major effort, the College of Criminology and Criminal Justice will work with numerous other FSU colleges and departments to produce an interdisciplinary research and policy strategy to comprehensively address this major and growing global problem.
In addition to leading the effort to improve society and cultivate criminological problem solvers of the future, Blomberg also is heading efforts to craft a unified brand for Florida State University. Provost Sally McRorie asked him to chair the university's new branding committee.
"FSU has notions of a brand. For some it's Seminole football, for some it's Renegade, and that's all good, but what we really hope to establish is FSU's brand as a world-class research university that is making a positive difference in society and the lives of citizens," Blomberg said.
The committee is tasked with telling Florida State University's story in a clear and concise manner. The committee includes university trustees, college deans, campus communicators and students.
"Great things are happening throughout FSU, and we want to capture and promote these efforts and accomplishments," he said.
As FSU and the College of Criminology and Criminal Justice strive to reach even greater heights, Blomberg is seen as someone who can help boost the reputation of both.
"In trying to provide effective leadership you cannot sit still," he said. "You must not get too comfortable. You have to listen to others and then ask yourself what's next because the world is changing, and you need to be in a position to proactively address ongoing changes. But in the end, for effective leadership to have moral authority, it is all about facilitating participatory democracy among students, staff and faculty in collectively forming and adopting a shared vision."