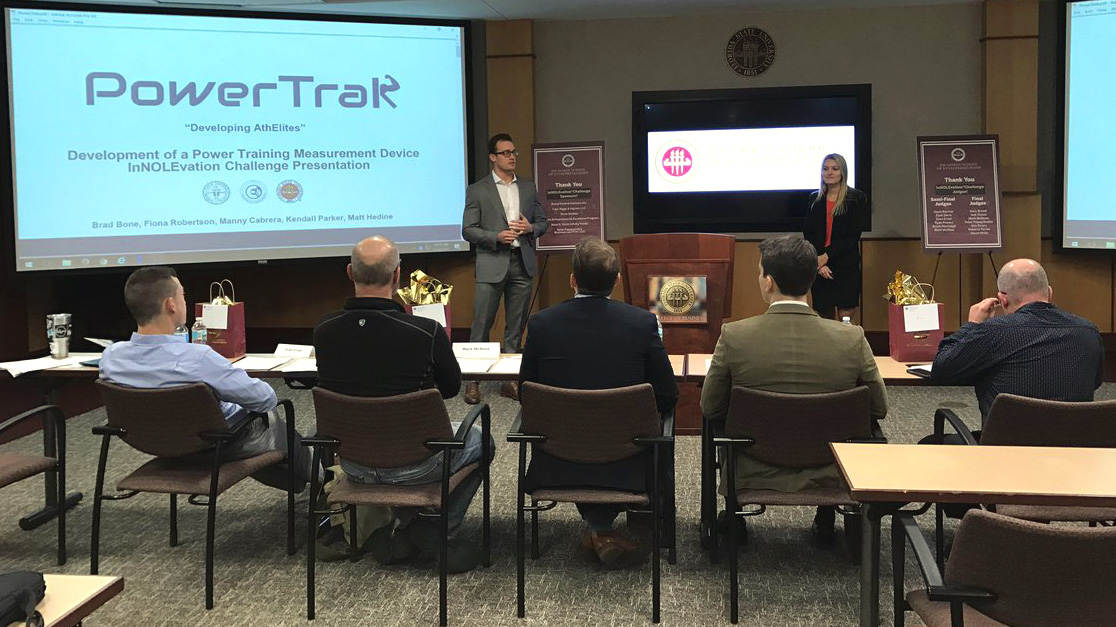 Seven teams of students in the Jim Moran School of Entrepreneurship are headed to the final round of competition in the 2016-2017 InNOLEvation® Challenge at Florida State University.
The students are competing for more than $35,000 and learning valuable lessons about starting a business as they face off in the business model competition. The finals will take place March 3, 2017. Media are invited to cover the event.
Fifteen student teams faced off in the InNOLEvation® Challenge semifinals on Feb. 10. Teams had 7 minutes apiece to make their business pitch to a panel of judges. After they wrapped up their presentations, judges picked seven teams to advance to the InNOLEvation® Challenge finals.
The seven finalists are:
Aquaholic Engineering (Jacob Gardner, Diego Avila, Emily Czelusniak, Thomas D'Aguiar, Tyler O'Ferrell)
Mayan Traditions (Hannah King, David Olusola, Carolina Garcia)
Playball (Hernan Bater, Gabriel Grynsztein)
PowerTrak (Matt Hedine, Fiona Robertson, Brad Bone, Kendall Parker, Jorge Cabrera)
Safebriight (Arianna Rajabi, Tucker Russ, Maxwell Brecher)
STEM Veterans USA (Benjamin Hallstrom)
Tutor Direct (Daniel Wax and Ethan Cohen)
Now, these seven teams will compete in the finals of the InNOLEvation® Challenge at 9:30 a.m. Friday, March 3 at the FSU Rovetta Business Building, Starry Conference Room (214).
Students from all majors and levels of experience learn insights about innovation and entrepreneurship during the InNOLEvation® Challenge. The competition requires students to identify problems and solutions in a new venture, build effective teams, develop clear assumptions, test those assumptions and then make necessary adjustments.
The competition takes place over two semesters. Students attend workshops and submit portions of their business model throughout the school year. The competition awards a total of $36,500 in prize money.
The other teams to compete on Feb. 10 were:
Bloom Box (Katie Wallshein, Natalie Nolan)
Driftour (Chelsea Schneider, Hallie Lavery, Val Rodriguez)
HH Boards (Evelyn Bradshaw, Brian Ross, Kevin Sison, Jonathan Levy, Shawn Drawdy)
Incredibowl (Mateo Quintanilla, Maria Perez, Kiernan Farmer, Eddie Gibson, Rufus Caple)
KidKonnect (Caroline Sorrick, Sherly McGhee, Alex Boulos)
Sunshine Bracelets (Cristina Carter)
Tallahassee Glassworks (Max Epstein)
Ultimate Guitar Cases (Austin Moore, Samuel Rubin, Grant Kleiner)
About the Jim Moran School of Entrepreneurship
In December 2015, Florida State University announced the creation of the nation's largest interdisciplinary, degree-granting school of entrepreneurship, the Jim Moran School of Entrepreneurship, as part of a major gift from Jan Moran and The Jim Moran Foundation. Students will participate in traditional case study learning along with innovative hands-on application and experiences. Students accepted in the inaugural 2017-2018 class will graduate with a Bachelor of Science or Bachelor of Arts in entrepreneurship.