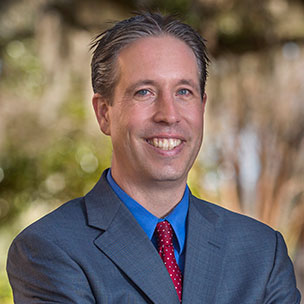 Policy Pub, the informative social series of topical talks and discussions presented by the Florida State University College of Social Sciences and Public Policy, returns for three new sessions this semester.
Through the series, the FSU social sciences faculty share information and ideas about public policy with community members in an informal, non-academic setting.
The series kicks off with a presentation on "Robot Cars, Transportation and the Future of Florida" by Tim Chapin, professor of urban and regional planning and interim dean of the College of Social Sciences and Public Policy. He will discuss how robot cars, also known as self-driving vehicles, will transform the way we travel, where we live and work, and how our communities function. Chapin is one of the principal investigators on a research grant from the Florida Department of Transportation studying how robot cars could enhance mobility for aging populations and the transportation disadvantaged.
The event, which is free and open to the public, takes place from 5:30 to 6:30 p.m. Tuesday, Jan. 17, at Backwoods Bistro, 401 E. Tennessee St. 
The informal setting allows people to sit at tables, order from the bistro menu, hear a presentation of about 10 to 15 minutes, then ask questions and talk about the night's topic. The Pub gatherings conclude by 6:30 p.m., although attendees have been known to linger and continue the discussion among themselves.
Last fall, the inaugural series of Policy Pub gatherings attracted large crowds of engaged locals for insightful presentations, stimulating dialogue and a relaxed atmosphere to hear about and discuss public policy issues that affect everyone. The first three sessions in the fall focused on the 2016 election, the next three will cover a wide range of topics.
Additional sessions scheduled for early 2017 are:
Feb. 21: "Going Under? Sea Level Rise and What We're Doing About It"
William Butler, associate professor of urban and regional planning, will discuss how planners in Florida are responding to the long term and slowly emerging changes associated with accelerating sea level rise in the state most vulnerable to rising seas. By some measures, Florida is the most vulnerable region in the world. Butler's presentation will identify the uncertainties and complexities of sea level rise and how planners are addressing the issue in the face of varied political, social and economic contexts.
Mar. 21: "Does Public Health Policy Value Women and Children Enough?"
Miranda Waggoner, assistant professor of sociology, will discuss how public health policy that addresses pressing population health problems often overlooks the particular needs of women and children. Waggoner will discuss how that oversight can lead to inadequate development of vital social and health programs to meet those needs.
For more information about the Policy Pub series, visit coss.fsu.edu or email rnixon@fsu.edu.