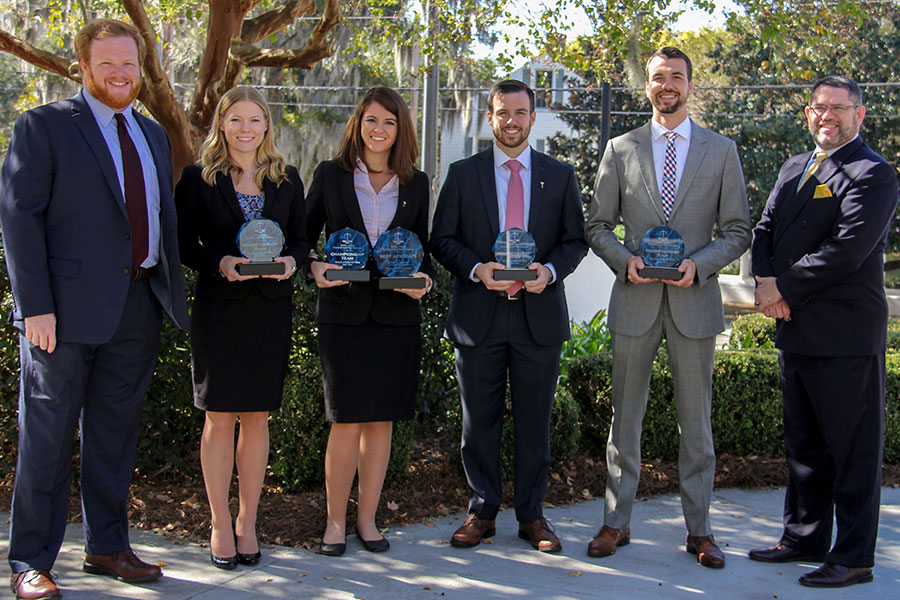 The Florida State University College of Law Mock Trial Team won first place in the 2016 Buffalo-Niagara Mock Trial Competition sponsored by the University at Buffalo School of Law, the New York State 8th Judicial District and the Bar Association of Erie County.
The competition, which is one of the biggest national invitationals in the country, was held Nov. 11-14 in Buffalo, N.Y. FSU was undefeated throughout the entire competition.
"Congratulations to our wonderful student advocates and to their coaches," said Erin O'Connor, dean of the College of Law. "To win first place in one of the nation's largest mock trial competitions is an impressive feat."
A total of 36 law schools participated in the competition, including teams from Fordham University, Northwestern University, University of California – Davis, University of Georgia, University of Houston, University of Illinois, University of Maryland and University of Texas.
Winning team members are third-year students Joseph Davis, Marianna, Fla.; Megan Gottschall, Land O' Lakes, Fla.; Joseph Leavitt, Lake Worth, Fla.; and second-year student Rachel Lopez, Littleton, Colo. FSU alumni and former mock trial team members Ross Marshman ('12), assistant general counsel at the Florida Department of Economic Opportunity in Tallahassee, and Stacy Sharp ('09), an attorney at the Office of Criminal Conflict and Civil Regional Counsel in Tallahassee, coached the team to victory. Lopez also won the title of best advocate for the final round of competition.