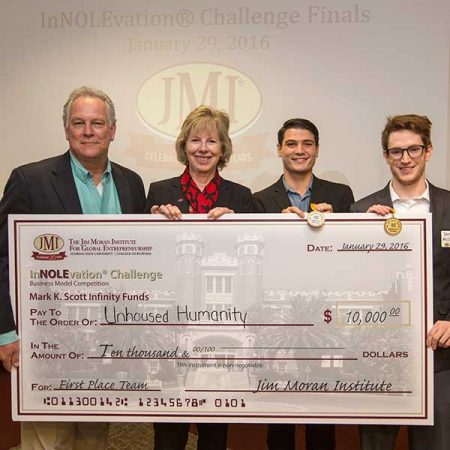 The Jim Moran Institute for Global Entrepreneurship announced "Unhoused Humanity" as this year's winner of the InNOLEvation® Challenge Business Model Competition.
Unhoused Humanity, founded by Ramon Aleman, a psychology and marketing major, and Daren McCurdy, a graduate student studying international affairs,solves the problem of homeless individuals who do not have the necessary funds to pay for their initial security and housing deposits for a new rental property.
The organization, which uses crowdfunding and community connections to raise the necessary funds to get people off the streets, won $10,000 contributed by the Mark K. Scott Infinity Fund.
One of the JMI's major goals is to foster entrepreneurship in students. InNOLEvation® Challenge contestants hone their critical thinking skills by building a business model as they go through the stages of the competition. The six-month challenge consisted of four rounds with student entrepreneurs making their final presentations Friday, Jan. 29, at the College of Business.
"We've made significant strides in our Entrepreneurial University initiative this year with more students from different majors and colleges getting involved," said Dr. Randy Blass, JMI executive director. "In particular, we are excited to see so much interest coming from our freshman students as they become engaged in solving consumer problems as well as social problems, both of which can have a positive impact locally, nationally and globally."
In all, the challenge awarded $20,500 in prizes, plus exclusive access to Domi Venture's co-working membership for the first and second place teams, valued at $2,250 each. The top two teams will also be given scholarships to participate in the Tallahassee Chamber of Commerce's Entrepreneurial Excellence Program.
The eight student startups finalists were selected from the 75-plus fledgling ventures that submitted proposals this past September. The final teams made their presentations before a panel of seven entrepreneurs and community leaders serving as judges.
Fitzgerald Light, an economics major, and Laura Goldberg, a risk management and insurance major, won second place and $5,000, for their company Tweb Innovations. Tweb creates a free centralized resource for students to post questions, statements and items for sale or events.
Carol Chinos, a graduate student in information systems, Andy Larreategui, a political science major, and economics major Kamila Toska earned third place and $3,000. Their company, Ingot, increases sales on ecommerce websites by fully automating the A/B testing process, making business intelligence strategies available to merchants of any level of marketing expertise.
The fourth- through eighth-place finishers each received $500. They were:
IDEA Diaspora Network, founder John Muchira. The company betters the lives of the underprivileged in Africa by researching and disseminating entrepreneurship information to Africans in the Diaspora region.
KSNF or Kathi Smillie Nursing Foundation, founders Tyler Smillie and Melissa Conboy. The company's mission is to help those fighting cancer with financial needs not covered by health insurance and to promote the nursing field through endowment scholarships to those whose families have been affected by cancer.
LifePrep, founders Parker Butman and Brian Laughridge. Works with high school counselors to help aid the process of comparing colleges through a database system adding efficiency in meetings with those counselors.
Munday Ventures Corp., founder Austin Munday. Creates a revolutionary social media platform that takes out the follower/following dynamic and creates a single location and global based stream of content that can be up-voted or down-voted.
U.L.A. (Ultimate League Association), founder Kody Cotton. Unites hundreds of ultimate Frisbee leagues across the U.S. by creating a parent organization to combine purchasing power to reduce costs across the board.
Rather than focusing on developing a robust business plan, complete with financials and slick presentations based on possibly flawed assumptions, the InNOLEvation® Challenge assesses how each team identifies its business assumptions, tests those assumptions with real potential customers, then uses those results to create a more viable business model and ultimately a more successful enterprise.
"This competition was a true learning experience for these student teams," said Wendy Plant, JMI director of student engagement and alumni relations. "They attended a series of workshops to help them validate and improve their business models as they worked their way toward the final presentations."
A 1995 contribution from Jim and Jan Moran and JM Family Enterprises established the Jim Moran Institute for Global Entrepreneurship at the Florida State University College of Business, with additional support through the years. Since 2011, further enhancements to the Institute and its outreach have been made possible by Jan Moran and The Jim Moran Foundation.