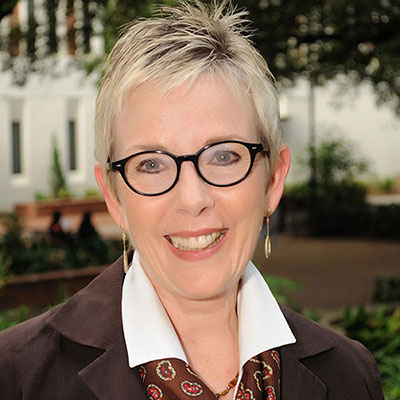 Florida State University Provost and Executive Vice President for Academic Affairs Sally McRorie has appointed FSU business professor, entrepreneur in residence and university administrator Susan S. Fiorito as the founding director of Florida State's newly established Jim Moran School of Entrepreneurship.
Fiorito currently serves as chair of the Department of Entrepreneurship, Strategy and Information Systems in the FSU College of Business. She is president of the FSU Faculty Senate and, as such, is a Florida State University Trustee. Prior to entering academia, Fiorito owned four apparel and jewelry stores and a wholesale leather goods company.
"Dr. Fiorito's academic credentials and classroom acumen combine with her business successes to make her a natural fit for this critically important role," McRorie said. "She knows how to get things done and done well. We are very pleased that she will serve as founding director of the school that will help transform FSU into the foremost entrepreneurial university in the nation."
Scheduled to begin offering college courses in 2017, the Jim Moran School of Entrepreneurship will be the nation's largest interdisciplinary, degree-granting school of entrepreneurship. A $100 million gift from Jan Moran and The Jim Moran Foundation established the new school to honor the late Jim Moran.
As director, Fiorito will oversee activities of the new school, including the development of curricula and programming during a phased implementation over the next three years. While the director is not a dean, Fiorito will sit on the Academic Deans' Council and report directly to the provost.
"I'm honored to be given the opportunity to help build this revolutionary and exciting new school at Florida State," Fiorito said. "Thanks to Jan Moran and The Jim Moran Foundation, we're ready to build on the legacy of Jim Moran to create a robust entrepreneurial ecosystem throughout the state and across the nation."
Fiorito began teaching in the FSU College of Human Sciences in 1990, where she taught in the Department of Retail Merchandising and Product Development. In 2012, Fiorito began teaching entrepreneurship in the College of Business, where she was appointed interim chair of the Department of Entrepreneurship, Strategy and Information Systems in 2013 and permanent chair in 2014. In addition to teaching at FSU, she also has taught and conducted research at the University of Iowa, Florida International University and the University of Stirling in Scotland, where she taught graduate level courses and developed a module for their Executive MBA program.
Fiorito's research focuses on retailing, small business management and buying, and has been featured in a variety of academic journals, including International Journal of Research and Distribution Management, the Journal of Retailing, and Entrepreneurship: Theory and Practice. She has received research grants totaling nearly $170,000. In addition, she taught summer study abroad courses in Milan, Paris and London for six years and spent one year on sabbatical at the University of Stirling in Scotland.
She is the recipient of three University teaching awards, and was selected to be one of three inaugural Jim Moran Institute Faculty Fellows in 2010. She was the first female president of the American Collegiate Retailing Association, and currently serves as its treasurer. Fiorito was appointed to the Florida Retail Federation's board in 2003.
When fully established, the Jim Moran School of Entrepreneurship will greatly expand the entrepreneurship courses currently taught in the College of Business and make them available to all FSU students.
Currently, Florida State offers an undergraduate major and minor in entrepreneurship with both housed in the College of Business. Simultaneously, as a part of its Entrepreneurial University Initiative, FSU also has embedded 28 entrepreneurs in residence (EIRs) across campus in 12 of its 16 colleges.
The undergraduate entrepreneurship programs will be moved to the Jim Moran School of Entrepreneurship, which will award both the Bachelor of Science degree and Bachelor of Arts degree in Entrepreneurship, along with a redesigned, interdisciplinary minor. The school will be organized across five major focal areas that will offer academic majors in: Arts and Humanities, STEM, Commercialization, Allied Health, and Applied disciplines such as law, education, criminology, social work and others.
The official launch date of the school is scheduled for Aug. 8, 2018 — which would have been the 100th birthday of Jim Moran. Between now and then, Fiorito will work with FSU faculty members and the entrepreneurs in residence to create the interdisciplinary curriculum.