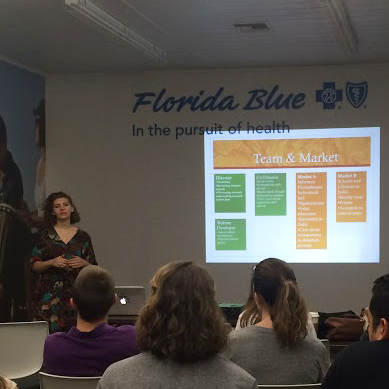 A growing number of social entrepreneurship and innovation courses at Florida State University have been inspiring students to develop ideas for start-ups that address pressing social issues. Now, thanks to partnerships beyond the campus, these inspirations are getting a boost from real-world practice and advice that will help make these ideas a reality.
One such partnership is with the Tallahassee-based business incubator Domi Station. Students in the Social Entrepreneurship and Economic Development course at FSU's DeVoe L. Moore Center toured Domi, April 24, 2015. Three budding entrepreneurs were chosen by their classmates to pitch their ideas during a simulated "shark-tank" style event at the company's headquarters. The event gave them the experience they need to further develop viable social enterprises that help solve critical problems through sustainable revenue streams.
Gabriela Fulginiti, a junior uninternational affairs and art with an entrepreneurship minor, pitched Kitabé for Kids, which will create an online platform for private donors to purchase books online for direct shipment to schools in India with diminished resources. Fulginiti plans to partner with the Amazon Affiliates program to generate revenue from all purchases made through the Kitabé portal. She will begin a pilot project this summer during her third trip to India.
Daniel Boyle,a senior in economicsand literature, pitched Fluid, a proposed corporation to raise awareness of Florida's water depletion crisis by offering unique and trendy apparel with creative designs inspired by cave system maps and aquifer level charts. Profits would be directed towards such existing projects as the city of Clearwater's efforts in groundwater replenishment. Boyle said his enterprise would partner with the city, relevant nonprofits, and Florida-based designers to develop Fluid.
Kamila Toska, a junior in economics, pitched Social Cue, a business-to-nonprofit marketing consulting and design company. Marketing consultants would use the innovative Social Cue database to identify potential mutually beneficial partnerships, such as those between the clothing company Patagonia and its many nonprofit partners or Pilot Pen and Keep America Beautiful. Toska described her potential market as nonprofits looking to scale outreach and impact, as well as businesses looking to add corporate social responsibility to their overall business model.
The students made their pitches to Domi Station Co-founder-PartnerDavid Lawson, Incubator ManagerChristine Urban, and Community ManagerLucas Lindsay, a recent graduate of FSU's Department of Urban and Regional Planning. The Domi reps gave the three students vital feedback on their development ideas with an eye to creating sustainable business plans.
Since its grand opening last year, Domi Station has co-sponsored student events such asHackathon, which brings together software and hardware engineers, designers, and students to create team projects from scratch,andDigitech, an FSU event featuring innovative student exhibits and tech start-up presentations. Domi also hosts the weekly 1 Million Cups meeting of Tallahassee entrepreneurs, which welcomes FSU student pitches, and maintains work space in their headquarters specifically for FSU students.
The Social Entrepreneurship and Economic Development course is designed for upperclassmen to think critically about social issues and develop business plans for viable social enterprises. DeVoe Moore Center Director Sam Staley and Project Manager Joanna Douglas co-instruct the class through group dialogues, interactive workshops, guest speakers, and site visits. The class fulfills an elective requirement for the social entrepreneurship and innovation specialization within the interdisciplinary social sciences (ISS) program in the College of Social Sciences and Public Policy.
In fall 2014,Eddie Sepeused the course to pursue his passion for starting an urban farm that supports community development projects. Since graduating, Sepe has teamed up withTallahassee Aquaponics and is currently assisting the development of educational programs for local schools in Leon County.
"I can't stress enough how much I appreciate the insightful advice about a whole new way to do business," Sepe said about the course. "Sam Staley definitely kept me motivated and inspired to do my best this semester. It means a lot having so much support from genuine and caring teachers who I feel are truly making a huge difference at Florida State."
Thanks to innovative classroom instruction and partnerships with ventures such as Domi Station, Florida State students are becoming part of the rapidly growing social entrepreneurship ecosystem around campus and across the globe.
For more about the college's ISS specialization in social entrepreneurship, please visit http://coss.fsu.edu/iss/node/12.