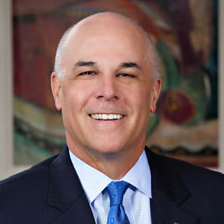 Florida State University's Master of Public Health (MPH) Program honored Pat Geraghty, chairman and CEO of Florida Blue, the state's Blue Cross and Blue Shield plan and a leader in Florida's health care industry.
Each year the program's faculty presents itsHealth Policy Person of the Year Award in recognition of the career contributions of a leader in the health policy field in Florida. Geraghty will be honored for his contributions to reducing Florida's uninsured rate by, among other things, leading his firm to offer Affordable Care Act (ACA) policies in every Florida county. Florida Blue was the only insurer in the state to do so in 2014.
William Weissert, director of the MPH Program, and David Rasmussen, dean of the FSU College of Social Sciences and Public Policy, presented the award to Geraghty Friday, April 24, on the steps of FSU's Health and Wellness Center.
Florida led the nation in ACA enrollments in the second year of the act's rollout, a consequence of important outreach efforts by many organizations but helped by the wide availability of plans throughout the state.
"Mr. Geraghty led his industry early on in embracing the ACA market and likely encouraged the broad industry participation that the state's uninsured have benefitted from," Weissert said. "He is a recognized leader in health policy in both Florida and the nation and serves on the boards of many organizations important to health policy improvement."
In 2014, Florida Trend magazine named Geraghty its Floridian of the Year. That same year, the Jacksonville Business Journal named Geraghty the Ultimate CEO. Prior to joining Florida Blue in 2011, Geraghty was president and CEO of Blue Cross and Blue Shield of Minnesota, where he also served on its board of trustees and the board of its foundation. Geraghty also serves as a board member for a diverse group of organizations including the National Institute of Health Care Management and the MaliVai Washington Youth Foundation. He is a member of the Florida Council of 100 and the board of trustees of the United Way of Northeast Florida.
"Teaching, research and service in health policy — the mission of the FSU Master of Public Health Program — are enhanced and strengthened by the contributions of leaders like Mr. Geraghty," Weissert said. "We're lucky to have him working in Florida and gratefully acknowledge his leadership."
The Master of Public Health program in FSU's College of Social Sciences and Public Policy provides students with the skills needed to anticipate, prevent, track, manage and respond to disease, coupled with techniques to assess and improve performance of a wide spectrum of health care programs and policies in the United States and other nations. The program is built on a policy-focused curriculum with major capabilities in public administration, political science, sociology, demography, epidemiology, urban and regional planning, geographic information systems and health economics.