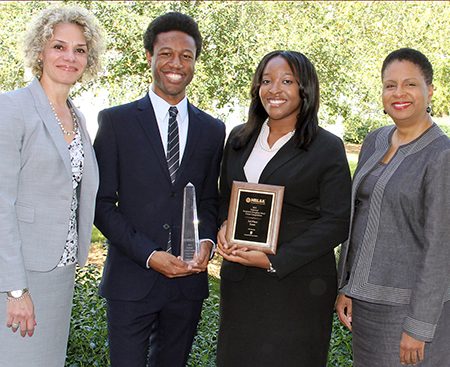 The Florida State University College of Law's Black Law Students Association (BLSA) has won first place in the National Frederick Douglass Moot Court Competition.
Nineteen law school teams from around the nation competed in the appellate advocacy competition, including Columbia University, which Florida State beat in the final round. Other law schools participating included the University of Illinois, University of Pennsylvania, University of Texas, and Washington and Lee University. The competition was part of the National Black Law Students Association's annual convention, held in Portland, Oregon on March 11-15.
Winning team members were third-year student Jason Byrd from Jacksonville and second-year student Christina Colbert from Daytona Beach. Judge Simone Marstiller, of Florida's First District Court of Appeal, and Florida State law alumna Karla D. Ellis ('96), who is an attorney at the Florida Supreme Court, served as coaches for the team.
"We are thrilled that our Black Law Students Association has earned the #1 spot at this national competition," said Dean Don Weidner, "especially given the top strength of the competition."
Florida State's BLSA also received the Chapter of the Year award for chapters of medium size. The award is based heavily on an organization's community service and educational outreach activities. This is the fourth time since 2006 that Florida State has won the national title. Also at the national meeting, third-year student Kevin Alford from Fort Lauderdale and second-year student Samuel Gilot from Miami were named National Best Advocates in the Thurgood Marshall Mock Trial Competition.