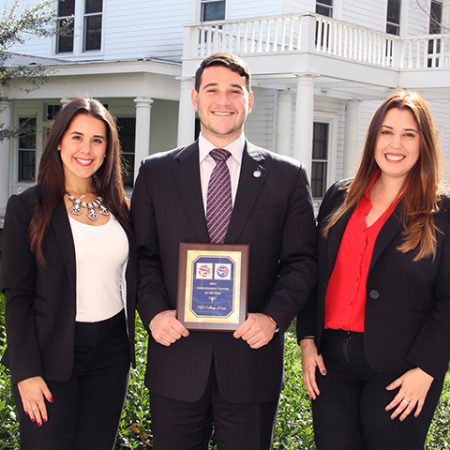 Florida State University's College of Law Cuban American Bar Association (CABA) received the 2014 CABA Student Chapter of the Year award from the Cuban American Bar Association. The award recognizes a CABA student chapter that has exhibited qualities consistent with CABA's mission through its leadership, organizational activities and programs offered to members.
Florida State's CABA, which is one of the largest student CABA chapters in the nation, was honored following a year of many accomplishments. The group hosted several high-profile speakers, including Florida Supreme Court Chief Justice Jorge Labarga and several Florida legislators. CABA also held a networking event in South Florida, allowing students interested in practicing in the area to connect with attorneys there.
"We are thrilled that the work of our Cuban American Bar Association is being lauded at the national level," said Dean Donald J. Weidner. "Congratulations and thanks go to the entire CABA board and especially to its president, Joseph Salzberg."
HispanicBusiness.com currently ranks Florida State the nation's No. 2 law school for Hispanic students.