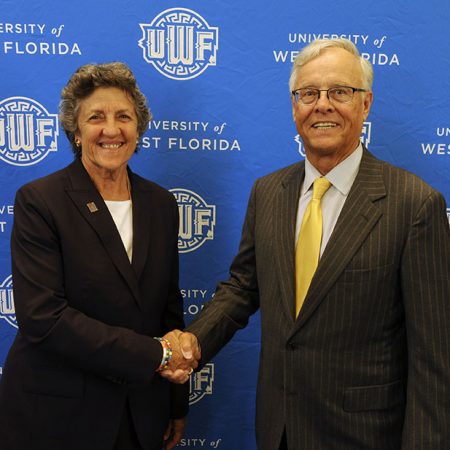 The Florida State University College of Law and the University of West Florida announced a partnership to offer a 3+3 Accelerated Law Program, which will allow aspiring attorneys to reduce the time they spend working toward a law degree.
The 3+3 program allows high-performing students to earn their bachelor's and juris doctor (J.D.) degrees in six years, rather than the traditional seven years, saving a year of time and cost. Students will spend three years at UWF and three years at FSU College of Law.
"I am delighted about our new partnership with the University of West Florida," said FSU Law Dean Donald J. Weidner. "In short, under this program, the first year of law school is double-counted: that is, it is credited both to the law degree and to the undergraduate degree. The result is that students and their families save the entire cost of the fourth year of college."
Students accepted into the program will be paired with a law student, faculty or alumni mentor. The UWF Pre-Law Advisory Committee advises students who are interested in the 3+3 program and will work with applicants to ensure they meet the eligibility requirements.
"This partnership is an example of our commitment to developing seamless transitions for our students," said UWF President Judy Bense. "We are proud to partner to give our students the ability to attend what many of them consider to be their dream law school."
Interested students should meet as early as possible with the UWF legal studies program to identify the 3+3 program as an academic goal and to map a path for its successful completion.
To learn more about the 3+3 law school admission requirements, interested students also can contact the FSU Law Office of Admissions at 850.644.3787 or admissions@law.fsu.edu.
Florida State University is currently ranked the #1 law school in Florida by U.S. News & World Report.