Entrepreneurial students across Florida State University's campus are assured of rent-free office space in which to run their start-up business ventures in the new College of Business building, Legacy Hall, thanks to a half million dollar gift from Tallahassee-based Syn-Tech Systems Inc.
College of Business alumnus Douglas Dunlap, Syn-Tech's President, and David Oglesby, the company's Vice President for Operations, presented a check for $500,000 to Florida State President Eric J. Barron and College of Business Dean Caryn Beck-Dudley on Nov. 2 at a tailgate party launching the $65 million-campaign for Legacy Hall. The gift will support construction of the building and establish the Syn-Tech Systems Student Business Incubator Suite in Legacy Hall.
"Syn-Tech's investment reflects not only confidence in the College of Business, but also tells us that Doug and David understand the importance of encouraging and supporting entrepreneurship among our students," Beck-Dudley said. "We are all so pleased and grateful for their very generous gift."
Both Dunlap and Oglesby graduated with degrees in business administration in 1973 and 1972 respectively, and have owned Syn-Tech Systems, an engineering design company specializing in fuel automation equipment, since its inception in 1989. The company was recognized as one of Florida's Best Companies to work for in the August 2010 issue of Florida Trend Magazine, and in 2012, was named Manufacturing Business of the Year by the Greater Tallahassee Chamber of Commerce.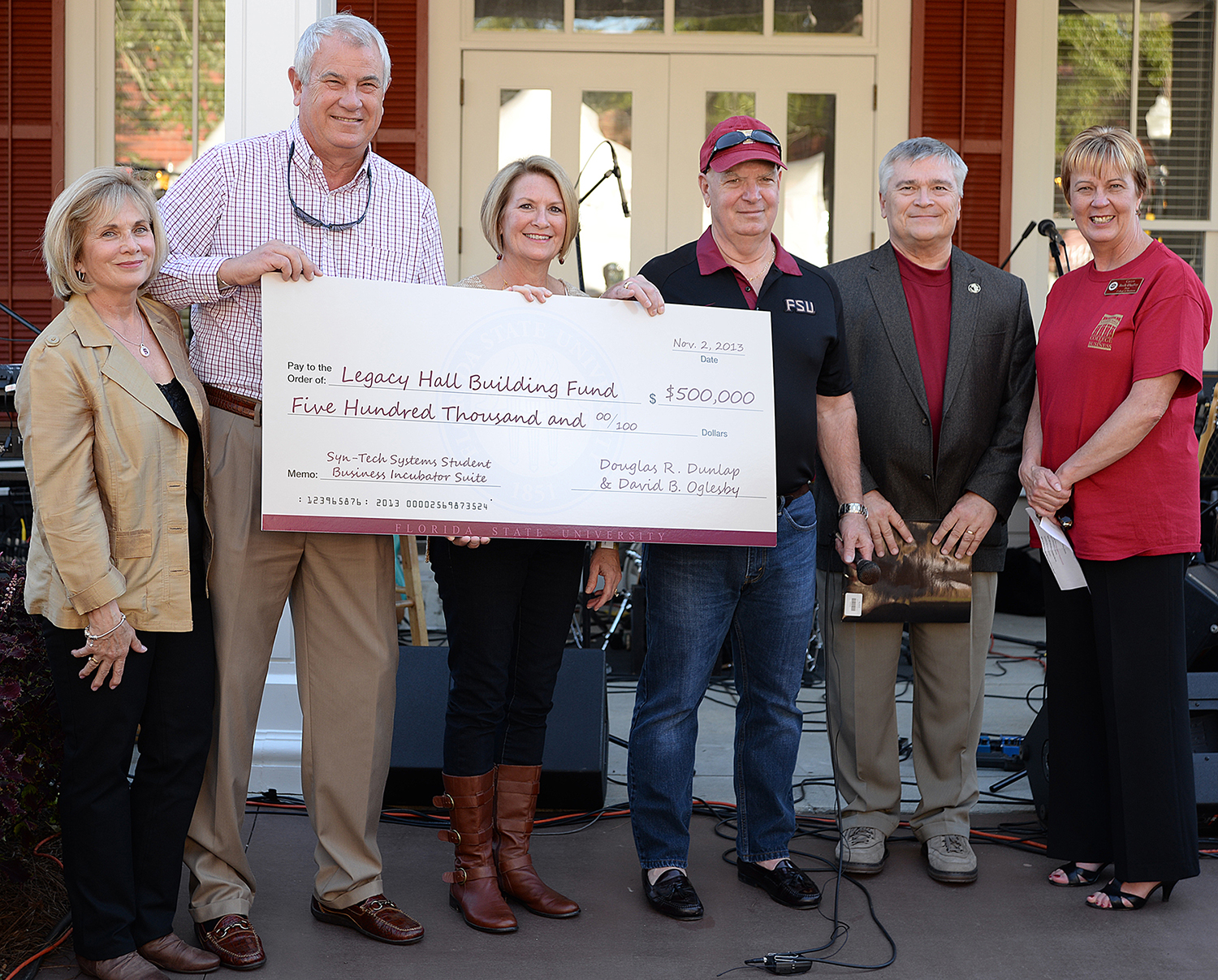 "'The skills I acquired at the FSU College of Business have been indispensable to my personal and professional success," Dunlap said. "And it is very important to me that the opportunities and benefits which the school confers be continued, improved, and maintained at the highest possible levels."
Legacy Hall will be constructed near the Leon County Civic Center, which is soon to become the new gateway to the Florida State University campus. The new building will provide a 67 percent increase in instructional space, along with the technology and collaborative spaces needed to provide tomorrow's business education.
For more information about Legacy Hall visit business.fsu.edu/legacyhall.