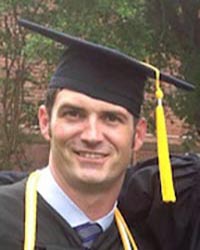 Based on a decision to stop using outside information technology contractors and, instead, begin building an in-house technology group, General Motors has hired 39 Florida State University IT students and recent graduates since the fall 2012 semester.
The dramatic number of hires from Florida State within only a few months is a result of the emphasis the university is placing on career readiness — helping its students keep up with the latest technologies to allow them to get hired and to hit the ground running once they embark on their careers.
The new hires have been filling intern and full-time positions in various GM research and development hubs across the country, including Atlanta, Austin, Texas, and Warren, Mich.
Twelve of the 39 hires were recruited from the School of Library and Information Studies, housed in the College of Communication and Information.
"This is a good validation of a strong IT program in the School of Library and Information Studies," said Larry Dennis, dean of the college. "It shows that our students are prepared to enter a dynamic job market with a great company."
Ebe Randeree, associate dean of the college, has been coordinating the university's relationship with GM's IT recruiters.
"The GM recruiters first visited the School of Library and Information Studies in the fall of 2012," Randeree said. "Our IT students impressed them so much that they accepted applications beyond the initial cutoff dates, offering interviews to several candidates. They returned again in the spring to recruit the next round of qualified students."
Derik Goodall, who is leading GM's IT recruiting efforts nationwide, praised Florida State's information technology students as "energetic" and "talented."
"The FSU students we have brought on have a passion in technology interests, proven analytical and problem-solving skills, and leadership experience," Goodall said.
Another sixteen of the 39 hires came from the Department of Computer Science, housed in the College of Arts and Sciences.
"It is not surprising to see that our students are doing well in industry, with some of them being actively recruited by GM to fill the skills gap," said Robert van Engelen, chair of the Department of Computer Science, who has led the department in producing software development tools that are heavily used in the automotive and embedded-systems industries. "Close to 100 percent of our students secure employment before graduation or in the months shortly after earning their degree."
In addition to the sixteen, two computer science students worked as interns this summer. They are likely to receive employment offers from GM next spring, according to van Engelen.
"This news confirms the high quality of our Department of Computer Science degree program and the lofty performance of our students," said Sam Huckaba, dean of the College of Arts and Sciences. "It is no secret that today's high technology needs demand a prepared and talented work force. I couldn't be more pleased to learn that our own faculty have built a program that is producing exactly the type of student that a powerful company like General Motors wishes to employ, and in great numbers."