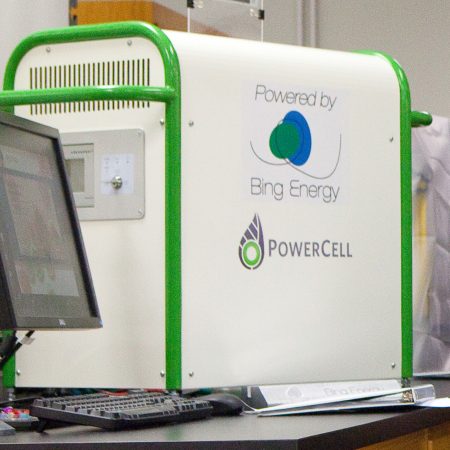 Florida State University research is behind products that are being marketed by Florida businesses that enhance the state's economy and economic development.
On July 9, Gov. Rick Scott went to Tallahassee-based Bing Energy to sign HB 705 that creates the Florida Capital Technology Seed Fund to foster greater private-sector investment funding, encourage investments in start-up companies and advise companies on how to restructure their organizations in order to attract greater business opportunities.
During last week's bill signing event, Bing Energy unveiled its first product — a hydrogen fuel cell designed to serve as a backup generator for cell-phone towers. The fuel cells use carbon-nanotube technology, known as "buckypaper," which was developed at Florida State. It is a thin conductive material that is lighter and stronger than steel.
Bing Energy used public funding from the Florida Institute for the Commercialization of Public Research to produce its clean energy fuel cell. The fuel cells power a 3-kilowatt generator that will be installed in cell phone towers across China.
"The bill we are celebrating today will encourage greater investments in Florida's start-up companies, ultimately leading to more jobs and opportunities for Florida families," Gov. Scott said during last week's event.
Among the other marketable products that are based on Florida State research that are being marketed by private firms is a new treatment for mild concussions produced by Prevacus, a pharmaceutical company. The drug has practical applications for athletes, military personnel and accident victims. Powers Device Technologies is another example of a company that used Florida State research to develop a practical product known as PAL, which uses music reinforcement therapy to stimulate the breathe-suck-swallow reflex in premature infants.
"Last year, university faculty researchers in Florida generated over $1.6 billion in research grants and contracts from government and private entities," said Gary K. Ostrander, vice president for Research at Florida State. "The vast majority of these funds cycled through the Florida economy in the form of salaries and locally purchased goods and services."
Research-generated grants and contracts combined with new and innovative commercial products based on university research and produced by private companies in the state have helped Florida emerge from the economic downturn by creating jobs, products and services that benefit everyone.