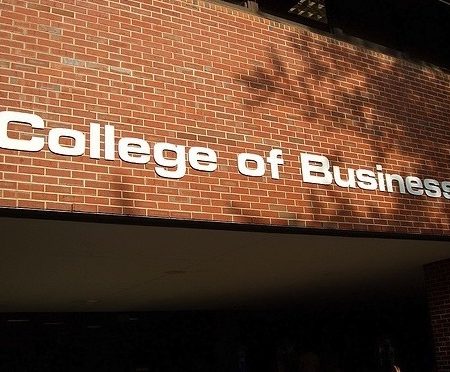 Two undergraduate programs in the Florida State University College of Business continue to hold top spots among the nation's public universities, according to U.S. News & World Report's 2013 edition of "America's Best Colleges."
The college's specialty undergraduate program in risk management/insurance (the Dr. William T. Hold/The National Alliance Program in Risk Management and Insurance) ranked sixth best among public institutions and eighth among all institutions, while the real estate program ranked eighth best among publics and 11th among all institutions.
Overall, the College of Business undergraduate program jumped nine spots to secure the 34th place in the rankings among public institutions, up from 43rd in last year's rankings. Among all institutions, the program rose to 56th place, up from 69th last year.
"The College of Business is committed to giving our students an excellent education, and these rankings — especially the college's significant increase in ranking over last year — are impressive and are a reflection of the hard work and commitment of our faculty," said Caryn L. Beck-Dudley, dean of the college. "We are pleased to be recognized nationally for the high quality of our programs."
In addition to the business rankings,U.S. News & World Report ranked Florida State University No. 42 this year among public "national" universities, moving up from last year's ranking of 46th. Among all national universities, Florida State ranked 97th, up from 101st last year.
In the College of Business, both programs ranking in the top 10 in the specialty undergraduate program section are in the Department of Risk Management/Insurance, Real Estate and Legal Studies:
The college's real estate program houses some of the top researchers and faculty members in the world. C.F. Sirmans, the college's J. Harold and Barbara M. Chastain Eminent Scholar in Real Estate, is ranked No. 1, while G. Stacy Sirmans, the Kenneth G. Bacheller Professor in Real Estate, is ranked No. 20 in research published in three core real estate journals — Real Estate Economics, the Journal of Real Estate and Economics and the Journal of Real Estate Research. In addition, the real estate faculty is ranked second globally in research appearing in these journals. The program also boasts the Center for Real Estate Education and Research, which enhances student learning and faculty research while also engaging alumni and professional executives through its activities.
"We are pleased with continuing to be ranked among the best programs in the nation," said G. Stacy Sirmans, who also chairs the department. "Our faculty members, who are some of the best researchers in the nation, work extremely hard to ensure that we provide to our students the best possible education. Another hallmark of our programs is our supportive alumni."
U.S. News and World Report's 2013 edition of "America's Best Colleges" will be on newsstands Tuesday, Sept. 18.