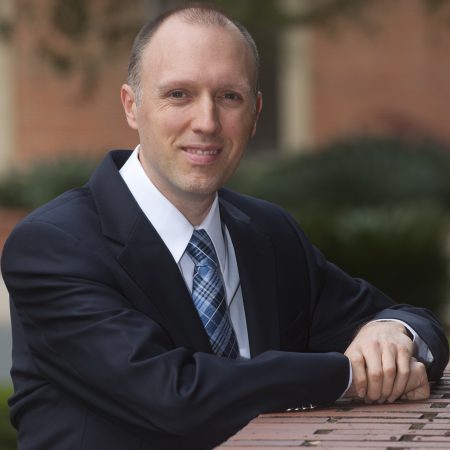 A Florida State University business professor whose research involves the study of staffing decisions within the workplace has received one of the top honors in his field.
Chad Van Iddekinge, the Synovus Research Associate and Associate Professor of Management within the College of Business, has been selected by his peers as a Society for Industrial and Organizational Psychology (SIOP) fellow. SIOP is the premier member organization for practitioners and researchers in industrial and organizational psychology — the scientific study of issues within and affecting the workplace.
"Being selected as a fellow of SIOP is a very special honor for me," Van Iddekinge said. "It represents the culmination of a lot of hard work and the support of various mentors and colleagues. To know that my peers believe that my research and work with organizations have had an impact is truly humbling."
Van Iddekinge's research focuses on how organizations make staffing decisions and how those decisions affect both job applicants and the quality and diversity of a firm's work force. His ultimate goal is to create a better understanding of, and thereby improve, the way organizations select, evaluate and develop workers. Some of the types of questions Van Iddekinge currently is researching include:
What applicant characteristics drive interviewer evaluations? Are integrity and personality tests useful for employee selection? How do applicants react to different types of tests and interviews and do their reactions matter? What happens when applicants are given the opportunity to retake selection tests and interviews? And most recently, does information found on applicants' Facebook pages and other social networking sites predict how well they perform their job or how long they stay with an organization?
Van Iddekinge's department chair said that his high quality of research is typical of the caliber of faculty members within the College of Business' Department of Management.
"Chad is an outstanding researcher and a valued colleague," said Caesar Douglas, the Jim Moran Professor of Management and chairman of the Department of Management. "He is one of several very productive faculty members in the management department, which had been ranked fourth nationally for research impact by Thomson Reuter's ScienceWatch and 17thfor research productivity among schools in the Association of American Universities."
In addition to being named a SIOP fellow, Van Iddekinge recently earned a special designation at Florida State. In April, he received a Developing Scholar Award, which is presented to mid-career associate professors who have made substantial contributions in their field of study.
Among his other duties in the Department of Management, Van Iddekinge, a faculty member since 2005, serves as the coordinator for the organizational behavior/human resources and strategy doctoral student programs.