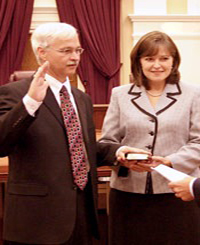 The Florida Supreme Court on April 4 unanimously elected Justice Ricky Polston — a two-time graduate of Florida State University — to become the state's 55th chief justice starting July 1, 2012.
"I am deeply honored by my colleagues' vote," said Polston, 56. "And I commit myself to be a faithful steward of this public trust, recognizing that I am a servant to the people of Florida, to the constitution, and to the laws of the land."
A native of Graceville, Fla., Polston served as a judge on Florida's First District Court of Appeal from 2001 until 2008, when he left to join the Supreme Court.
Polston received his law degree with high honors from Florida State in 1986 and also graduated summa cum laude with a bachelor's degree from FSU in 1977. He has also served as an adjunct professor in the university's College of Law since 2003.
With his wife, Deborah Ehler Polston, Polston has been a vocal advocate for children's causes, especially in promoting the adoption of children from the foster care system. He and his wife raised four children of their own before adopting a sibling set of six brothers.
Polston will serve a two-year term and will succeed the current chief justice, Charles T. Canady.
More information about Polston is available at www.floridasupremecourt.org/justices/polston.shtml.