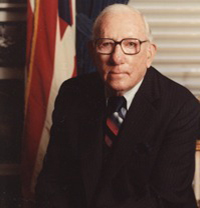 Claude Denson Pepper, a longtime public servant and passionate advocate for older Americans, has been posthumously inducted into the new Florida Civil Rights Hall of Fame. In a Feb. 29 ceremony at the state Capitol, Florida Gov. Rick Scott announced that Pepper and two other trailblazing civil rights activists — the late Mary McLeod Bethune and the late Rev. Dr. Charles Kenzie Steele Sr. — would be the first individuals to be so honored.
Pepper's legacy lives on at Florida State University, where a prominent building bears his name and an 8-foot bronze statue of him stands before it. That building, the Claude Pepper Center, was established through an endowment from the Claude Pepper Foundation following his death in 1989. The center is home to both the Pepper Institute on Aging and Public Policy and the Claude and Mildred Pepper Library and Museum.
Pepper, who represented Florida in the U.S. Senate for 14 years and in the U.S. House of Representatives for another 26, earned the moniker "spokesperson for the elderly" for his strong advocacy on behalf of the rights of older Americans. Among his many legislative accomplishments was helping to strengthen the Social Security system, fighting age discrimination and mandatory retirement ages, and pushing for stronger legislation to put a stop to abuse of the elderly. Also on Pepper's agenda were establishing minimum wages and maximum work hours, equal pay for women, health care reform and economic security for all Americans. Pepper strongly supported equal rights regardless of age, race or gender.
In 1990, Florida State negotiated with the Claude Pepper Foundation to build the Claude Pepper Center on its campus. Through an endowment by the foundation, the Claude Pepper Center was constructed and opened in 1998.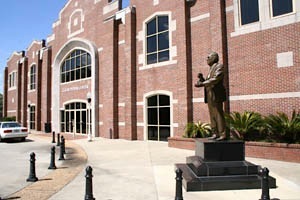 Today, the center serves as an academic resource to preserve and promote the ideas and values of the late congressman. FSU and the Claude Pepper Center both embody the ideals that Pepper believed in and continue to keep his values alive and thriving.
The Florida Civil Rights Hall of Fame was established by the Florida Legislature to recognize and honor individuals, such as Pepper, who have made significant contributions in the fight for equality and social justice. All nominees must has been born in Florida or have adopted Florida as their home state or base of operation.
Inducted along with Pepper was a legendary educator and advocate for black women, Mary McLeod Bethune (1875-1955), who established the Daytona Normal and Industrial School for Colored Girls, which is now the acclaimed Bethune-Cookman University. Also inducted on Feb. 29 was Tallahassee civil rights activist and minister Charles Kenzie Steele (1914-1980). Steele is perhaps best known for organizing a months-long bus boycott in Tallahassee that resulted in the end of segregated buses there.
The names and likenesses of all three inductees will be permanently displayed on plaques on the first floor of the state Capitol.
Read more about the Florida Civil Rights Hall of Fame here.