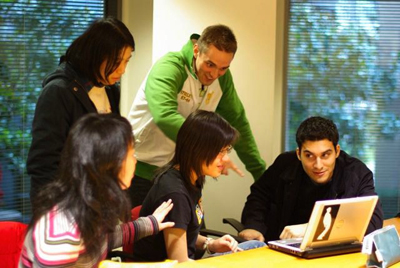 What's your idea for the "next big thing" in today's highly competitive marketplace?
That's what The Jim Moran Institute for Global Entrepreneurship at Florida State University's College of Business is asking all FSU students. And during Entrepreneurship Week — "eWeek" — which runs from Sept. 16-23, students will be inspired to achieve their dreams and have an opportunity to see what it takes to be a successful entrepreneur.
The eWeek concept reflects the university's ongoing transformation into "The Entrepreneurial University" and a campuswide emphasis on creating a culture among students, faculty and staff that embraces entrepreneurship, creativity and innovation, and the idea that those who take calculated risks can gain enormous benefit.
The Jim Moran Institute, which earlier this year received a $4.25 million gift from Jan Moran, the wife of the late Jim Moran, and The Jim Moran Foundation, is sponsoring eWeek. The gift will expand the international reach of The Jim Moran Institute and enable it to build on its mission of cultivating, training and inspiring entrepreneurial leaders.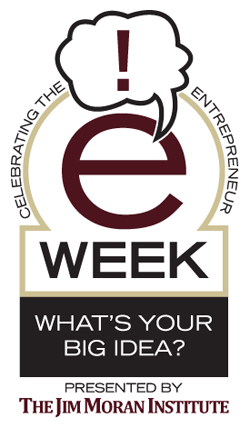 "Students can be incredibly creative and innovative, and eWeek gives them insight into what it takes to be an entrepreneur and help contribute to the growth of our economy," said Tim R. Holcomb, The Jim Moran Institute's executive director and the university's Jim Moran Professor of Management and Entrepreneurship. "We're fortunate to have successful entrepreneurs from the community willing to share their experiences and encourage our students."
During eWeek, students will have the chance to participate in an array of fun and educational activities, as well as challenging competitions that allow them to network with other entrepreneurial students and members of the business community who are willing to share their secrets to success. Florida State students in all majors are encouraged to take part in the week's events.
All Florida State students are invited to take part in the following free events:
The Jim Moran Challenge Kickoff: 3:30-6 p.m., Thursday, Sept. 22, Rovetta Business Building, Room 108. The first 40 student teams with great ideas for making money fast will receive a $25 gift card as a capital investment and have one week to create value and increase revenue for their enterprise. The teams will compete for cash prizes; the team generating the most money in the most innovative way will win the competition. All money raised will go to support C.E.O. Judging will take place from 1 to 3 p.m. on Friday, Sept. 30, in the Starry Conference Room (Rovetta Business Building, Room 214) at the College of Business. Registration is required.

Tim R. Holcomb

eWeek Networking and Progressive Luncheon: 8:30 a.m.-1 p.m., Friday, Sept. 23, University Center Ballroom. The event starts with a continental breakfast and remarks from The Jim Moran Institute's executive director and features an "Entrepreneurs' Lessons Learned" roundtable discussion and Q&A with four successful entrepreneurs. They are Brian Murphy, founder and CEO of Reliaquest; David Whitney, founder and CEO of Energent Ventures; Josh Greenberg, founder and CTO of Grooveshark; and Garrett Johnson, former FSU track athlete, Rhodes Scholar and entrepreneur. Tom Petrillo, founder and CEO of The Salon Group, will be the keynote speaker. These highly successful entrepreneurs will share advice about the dos and don'ts, the highs and the lows, the successes and failures, and the joys and frustrations of starting a business. In addition, this event provides another great networking opportunity as students will move from table to table and talk one-on-one with more than 50 successful entrepreneurs. Registration is required.
To register for one or more of these events, or for more information about eWeek, visit www.FSUeWeek.com.
For additional assistance, contact Ron Frazier of The Jim Moran Institute at (850) 556-1897, rfrasier@cob.fsu.edu or frazierron78@gmail.com; or Barbara Ash of the College of Business at (850) 728-7014 or bash@cob.fsu.edu.