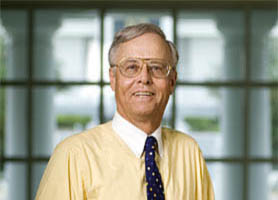 Florida State University College of Law graduates ranked first in the state on the July 2007 administration of the Florida Bar exam. For three of the last four administrations of the exam, FSU graduates have been first in the state.
FSU grads taking the July 2007 General Bar Examination test for the first time passed by a rate of 89 percent, according to statistics released Monday by the Florida Board of Bar Examiners. The overall passing rate of graduates taking the exam for the first time is 80.4 percent. The exam was administered July 24-25 in Tampa to 2,450 first-time takers, including 164 from FSU.
"We are all thrilled with the record of excellence our students have achieved on the Florida Bar exam," said Dean Don Weidner. "Special congratulations and thanks go to the May 2007 graduates for their superb accomplishment."
Florida State's first-place ranking on the Florida Bar exam comes close on the heels of favorable national rankings for the law school. In its September issue, Hispanic Business magazine named the College of Law the sixth best law school in the nation for Hispanics. Earlier this year, U.S. News & World Report ranked the law school's environmental law program 12th in the nation and its tax law program 21st in the nation, tied with Columbia.