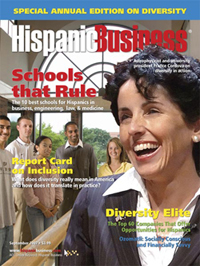 Florida State University's colleges of law and medicine are among the best in the nation for Hispanics, according to Hispanic Business magazine. The rankings appear in the September issue.
For the second year in a row, the magazine has named the FSU College of Law the sixth best in the nation in its annual rankings. It's the fourth year in a row that the law school has been ranked in the Top 10. The FSU College of Medicine, founded in 2000, made the Top 10 list for the first time this year, ranking ninth.
"We're very pleased that Hispanic Business magazine has recognized FSU's medical and law schools," said Provost and Executive Vice President for Academic Affairs Lawrence G. Abele. "This speaks both to the quality of FSU's programs and our commitment to encouraging a diverse community where all of our students can thrive."
The magazine considered a variety of factors in determining its rankings, including the percentage of Hispanic students enrolled, the percentage of full-time Hispanic faculty, services for Hispanic students, Hispanic recruitment efforts and retention rates and reputation as reflected in U.S. News & World Report's 2007 edition of "Best Graduate Schools."
For the 2006-2007 academic year, Hispanics made up 8 percent of the law school's 765-member student body and received 19 of the 245 law degrees awarded to the Class of 2007. Seven percent of full-time faculty members are Hispanic.
"Because other schools have even more Hispanic students and faculty than we do, it is our reputation for academic excellence that puts us over the top," said College of Law Dean Donald Weidner.
FSU's law school has Hispanics in key faculty and administrative positions, Weidner said. Fernando Tesón holds the Tobias Simon Eminent Scholar Chair and Manuel Utset is the Charles W. Ehrhardt Professor. Associate Dean for Students Nancy Benavides runs the school's Summer for Undergraduates Program and other academic support initiatives. The law school hosts programs and events geared toward recruiting Hispanics and has several student organizations that provide mentoring and peer support for current Hispanic students.
At the College of Medicine, 12 percent of the 284 students are Hispanic, and Hispanics received four of the 36 medical degrees awarded in 2007. Eight percent of the college's full-time faculty members are Hispanic.
Part of the College of Medicine's mission is to develop doctors who are responsive to community needs, especially through service to elder, rural, minority and underserved populations. All of the college's students take courses in cross-cultural medicine and medical Spanish and have opportunities to actively participate in research focused on culturally appropriate delivery of health care. FSUCares, the largest student outreach program at the College of Medicine, takes dozens of students on medical mission trips each spring to work with Spanish-speaking patients in communities in rural Florida, along the Texas-Mexico border and in Panama.
"The Hispanic population in Florida is growing, and the need for more Hispanic physicians is growing along with it," said College of Medicine Dean J. Ocie Harris. "We're pleased that our efforts to make the College of Medicine a desirable destination for Hispanic medical students is being recognized and hope that it will help us achieve our goal of producing physicians to meet medical needs in the Hispanic community. By doing so, these doctors will provide an invaluable service to all Floridians."