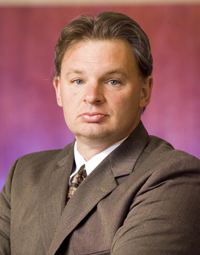 Hurricanes have ravaged the U.S. Gulf Coast for the past three years—a trend predicted to continue over the next decade. In response, a number of companies in the region have developed plans to deal with hurricanes before, during and after their onset.
Now, a Florida State University researcher has studied how the development of such plans affects employee health, well-being and willingness to participate at work.
Wayne A. Hochwarter, an associate professor of management in FSU's College of Business, conducted a study one month prior to the 2006 hurricane season in which he asked over 600 employees from a variety of organizations to discuss their organization's
hurricane-preparedness program. He found that more than half of employees thought that their organization was prepared and had a plan in place if a hurricane was to hit. Meanwhile, almost 40 percent indicated that their organization would not suffer much down
time after a hurricane, and approximately 45 percent knew their role in the restoration process.
"Oftentimes, companies put plans in place without communicating them to employees, which is largely a waste of time, energy and other resources because employees simply don't know how they should be implemented," Hochwarter said. "What was striking in this research was the influence that proactive planning had on worker attitudes and willingness to help on a day-to-day basis."
The effects of hurricane preparation on employee attitudes were substantial, he noted, including:
Significantly higher levels of job satisfaction
Greater willingness to do things beyond what is expected by management
Perceptions of greater control
More enthusiasm and a greater willingness to work harder than expected
More compassion for others
Greater feelings of support from the organization
Lower levels of depressed mood at work (i.e., sluggishness, sadness)
"There is a misperception that planning for a hurricane has value only if one hits," Hochwarter said. "Certainly, nobody wants a hurricane, but I think it's important for companies to know the benefits to planning beyond simply dealing with the traumatic event."
He suggested that planning is important because it opens lines of communication, increases employees' feelings of importance, and builds camaraderie. Involving employees in the process also goes a long way toward reducing the "us versus them" mentality that
pervades many organizations, Hochwarter said.
His research is being prepared for publication.