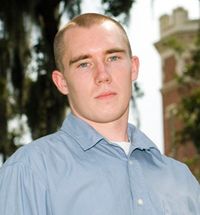 Tony Williams never planned on getting a degree in economics. The 24-year-old Florida State University student had spent much of his time on campus organizing students to lobby against brutal sweatshops. Along the way he earned a bachelor's degree, summa cum laude, double-majoring in political science and interdisciplinary social sciences.
But when he realized he could make a bigger difference by educating himself in the science of money, he enrolled in mathematics and statistics courses at FSU, with the goal of a second bachelor's degree, another double-major, in mathematics and economics.
"My real reason for becoming an economist is because of my experiences with social justice organizations and their overall ineffectiveness," said Williams. "They fight each other for limited resources more than they focus on the deeper issues affecting society."
Williams, originally of Knoxville, Tenn., was recently acknowledged for his efforts with the award of a Jack Kent Cooke Foundation Graduate scholarship, becoming one of this year's 77 recipients from an international list of 1,100 nominees. He is the only FSU student ever to win.
The graduate scholarship, which will cover tuition, housing, board, fees and books, offers its winners up to $50,000 annually for up to six years. It is among the most generous academic awards offered in the United States and is quickly becoming one of the most sought-after scholarships for college graduates.
"Tony is certainly one of the best and brightest students I have ever seen," said Associate Professor of Economics Tim Salmon of Williams. "His performances in the two classes he took from me are among the strongest that I have seen."
With the money from his scholarship, he is planning to attend Johns Hopkins University, which will be paying all of his tuition, for his doctoral degree in economics.
Williams wants to train as a labor economist, doing research on issues such as labor mobility and wage inequities, to bring economic theory closer to describing real-world phenomena.
FSU Professor Emeritus of Economics E. Ray Canterbery said that, when he first met Williams, he presumed Williams was already a Ph.D. candidate after he enrolled in one of his classes.
"He had the maturity, intelligence, dedication and intellectual curiosity of a scholar," said Canterbery. "Since then he has advanced to the point that I have engaged him in discussions on some chapters of books that I am completing. His suggestions are at a peer-review level."
After Williams decided he would pursue a graduate degree in economics, Canterbery suggested that he would need more mathematics. And when Williams learned that the appropriate math courses were not immediately available, he began to teach himself essential first-order differential equations and matrix algebra.
"Meanwhile, he undertook directed individual studies with me," said Canterbery, and "produced a stylish paper that would have been the envy of my graduate students."
Before being awarded the scholarship, Williams underwent a rigorous assessment at two stages by independent panels of academic experts, including graduate school deans, admissions counselors and faculty. The selection criteria included academic achievement and financial need as well as willingness to succeed, leadership and community involvement.
"The graduate scholarship recipients know hard work and sacrifice," said Matthew Quinn, the executive director of the Jack Kent Cooke Foundation. "These scholarships recognize their devotion to education, reward their efforts and provide an incentive to continue excelling."
But Williams is just trying to make a difference by raising awareness and pushing for policy change. He wants social justice organizations to work in collaboration instead of against each other. He has even been put in jail (and later acquitted) for protesting for his cause.
"My intention is to focus on creating mechanisms for change through widespread social empowerment," he said, "weaving various single-issue organizations and individuals into a coherent social justice movement to help them see how their issues connect."
Williams is the son of Donald and Teresa Williams of Knoxville, Tenn. For more on the foundation, visit: www.jackkentcookefoundation.org