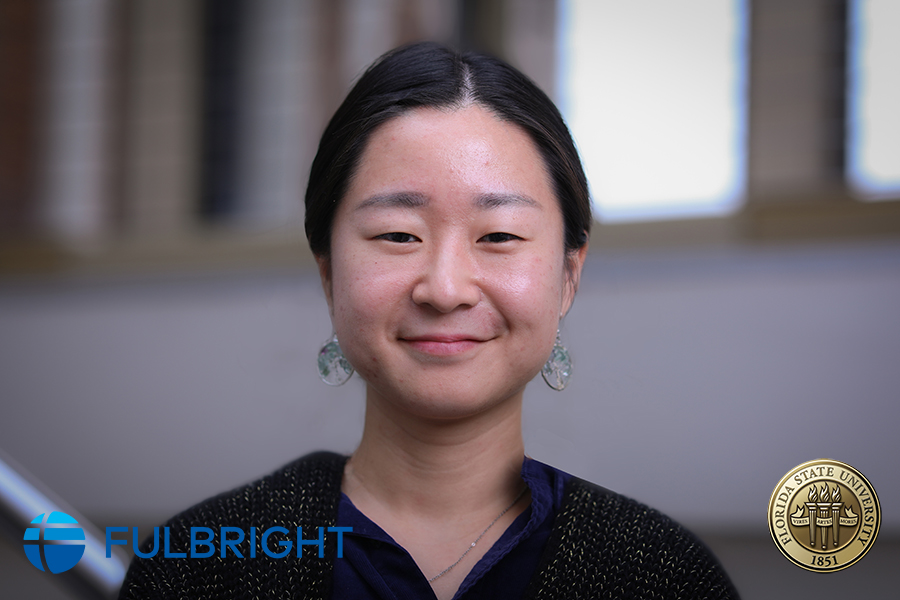 A doctoral candidate in Florida State University's Department of History has been awarded a highly competitive fellowship to conduct research in Japan this spring.
Emily Lu will use the Fulbright-Hays Doctoral Dissertation Research Abroad Program fellowship to support her dissertation research on the intersection of the arts and politics in imperial Japan during the wartime periods leading up to 1945.
"I'm ecstatic to receive this award and to return to Japan," said Lu, who previously lived in Japan for over two years as an English teacher. "I've refined my research and gained a lot of insight about myself throughout this entire process."
The Fulbright-Hays fellowship is funded by congressional appropriation to the U.S. Department of Education and is part of the Fulbright Program, which supports grants to study, teach and conduct research for U.S. citizens to go abroad and for non-U.S. citizens to come to the United States. The fellowship supports research and training efforts overseas focusing on non-Western languages and area studies.
Since the fellowship program's inception in 1964, there have been 6,331 fellowships awarded. Lu's award is just the fifth time an FSU student has received the Fulbright-Hays DDRA fellowship since 2006.
Using this fellowship's funding, Lu will travel to multiple cities in Japan to conduct research in archives and museums for her dissertation, tentatively titled "Towards an East Asian Utopia: Ambition and Illusion in Japanese Military Music, 1868-1945." Lu's work focuses on imperial Japan's peripheral regions, primarily Manchuria (northeast China). She plans to use archival sources and the music itself to examine how military music was produced, disseminated and consumed to draw conclusions about art becoming political propaganda during this period.
Music can serve as a valuable primary source for historical scholarship, one that is not utilized as often as it could be, Lu said.
"Wartime military music, which is called 'gunka' in Japanese, is a largely neglected topic in both Anglophone and Japanese scholarship, so I feel the need to include this important topic," she said. "That's where I see the significance of my work."
She plans to access the Rekion collection, a compendium of historical sound and music recordings at the National Diet Library in Tokyo. She will also visit various archives in Nagoya and plans to interject an oral history component into her study by interviewing individuals and their families about their wartime memories.
Lu earned a Bachelor of Fine Arts in dramatic writing from New York University Tisch School of the Arts and a Master of Arts in history from East Tennessee State University before coming to FSU for her doctoral studies. Her research approach blends her training in history, music and the arts.
Professor of East Asian History Annika A. Culver, who serves as Lu's major professor, said Lu's background as a playwright and writer of documentaries brings a unique perspective to her understanding of the past.
"Emily has constantly sought out opportunities to expand her knowledge of the field and enjoys working on projects that are interdisciplinary and use non-traditional sources for historians," Culver said. "She is truly tenacious in following her dreams, whether it's producing plays and documentaries or engaging in a challenging project that requires advanced proficiency in Japanese, Chinese and Korean languages."
Lu said she is grateful to her doctoral committee and for the help she's received at FSU for her dissertation and obtaining this fellowship. In addition to Culver, additional members of her dissertation committee, including Assistant Professor Matthew Mewhinney from the Department of Modern Languages and Linguistics, Assistant Professor Panayotis League from the FSU College of Music, and Assistant Director Keith McCall of the FSU Office of Graduate Fellowship and Awards, played a pivotal part in helping her obtain this award.
"Each of them has provided very crucial and sometimes life-changing advice on how to position myself as a scholar," Lu said. "I'm very grateful for their guidance as well as the support of my friends and family."
After graduation, Lu plans to continue as an educator and researcher while maintaining her involvement in the arts.
To learn more about historical research at FSU, visit history.fsu.edu.