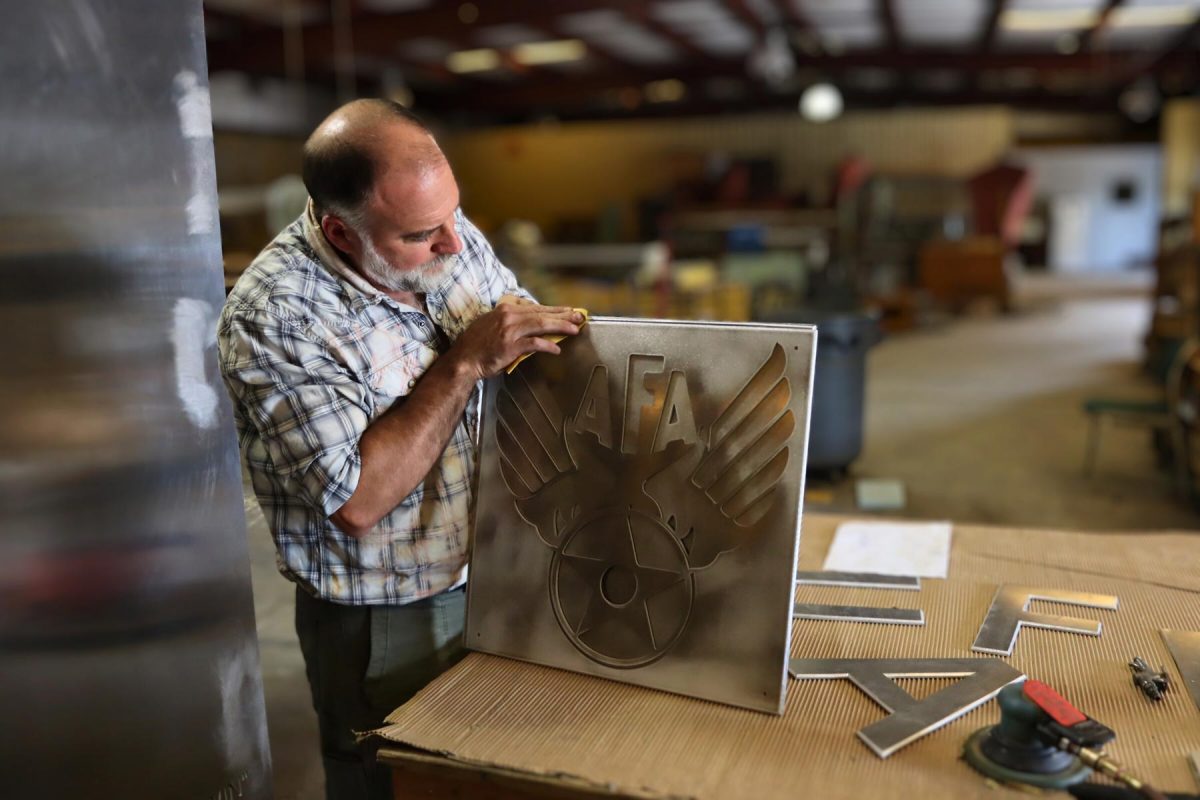 Master Craftsman Studio, an auxiliary unit of Florida State University Facilities, unveiled its latest project this week — its first federally approved monument.  
The project was initiated by the Air Force Association (AFA) Chapter 419 in 2021 and approved at the federal level by the U.S. Department of Veterans Affairs. It is located at the Tallahassee National Cemetery among the most visible monuments on the grounds.  
Chapter 419 tapped Master Craftsman Studio to design and build the monument, which aims to honor the service and sacrifice of United States Air Force (USAF) personnel.    
"It has been a pleasure to work with the Master Craftsman Studio," said AFA Chapter 419 Memorial Coordinator Captain David Wilson. "We are excited about the USAF Memorial and look forward to working with them again."  
Standing 8 feet tall and 4 feet wide, the memorial's four sides each convey a unique sentiment, including USAF iconography, important dates and its motto, "Aim high..Fly-Fight-Win." The memorial includes dedications to active and inactive service members, including Prisoners of War/Missing in Action (POW/MIA) and Gold Star Families.   
Phil Gleason, Master Craftsman artist manager, said the studio aimed for the monument to be a symbol of gratitude and respect to the men and women who have served. To that end, the monument is steeped in the heritage of the USAF and AFA.  
"We made a sleek representation of their symbolism that will harken the colors and style of the USAF aircraft," Gleason said.  
Chapter 419 worked closely with the studio through the concept and design phase of the project before proceeding to a multi-step production process of water jetting, welding, tapping, and dyeing, followed by powder coating. The entire process took two weeks to complete, which included cutting the metal, finishing the parts, assembling and disassembling them, powder coating, reassembling and finally transporting them to the installation site. 
Chapter 419 also has plans for a POW/MIA memorial at the cemetery.  
For more information, contact Captain David Wilson at damabarca@aol.com.