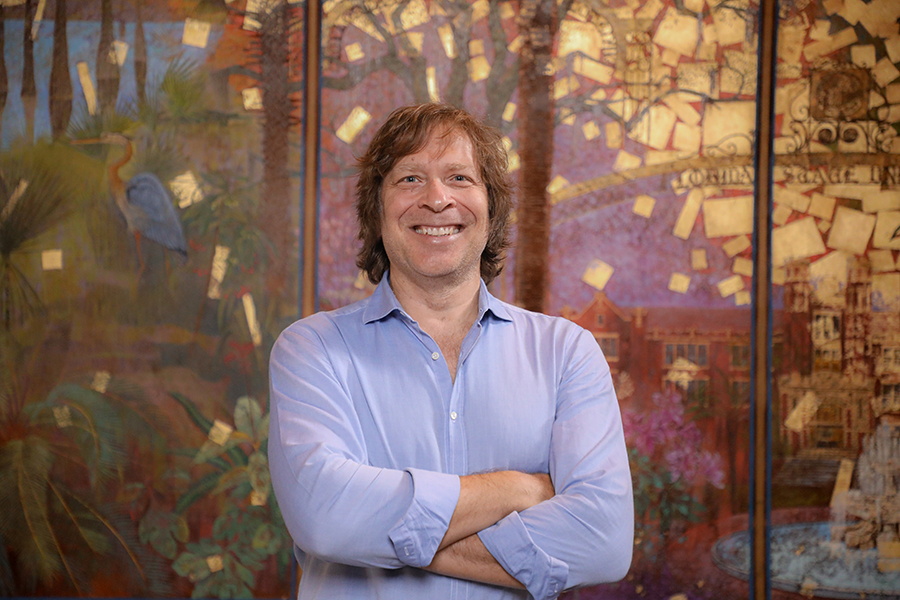 A Florida State University classics researcher and director of the FSU Cosa Excavations in Italy has earned one of the nation's most competitive humanities awards.
Professor of Classics Andrea De Giorgi was elected a fellow of the National Humanities Center in support of his project "Cosa and the Water Systems of the Roman Conquest of Italy (3rd–2nd c. BCE)," which focuses on the cultural responses to hydrological instability by communities across the Italian peninsula during the Roman conquest of Italy.
"It's a huge honor," De Giorgi said. "I'm incredibly humbled to receive this award. This is one of the most coveted awards and fellowships in the whole field of the humanities. I'm enthused about joining a group of very distinguished scholars at a place designed to accommodate deeper understanding, deliberative atmosphere and all the things conducive to good research."
The National Humanities Center, founded in the mid-1970s, is a private nonprofit organization dedicated to supporting and advancing study in all areas of the humanities. Since its creation in 1978, NHC's Residential Fellowship Program has supported 1,558 fellows-in-residence, with scholars taking leave from their normal academic duties to pursue research at the center.
De Giorgi joins the 46th class of resident scholars and is among 35 fellows appointed for the 2023-2024 academic year from a pool of 541 applications. He is one of six FSU researchers to be named NHC fellows since 1981.
"We are delighted that Andrea De Giorgi has been selected as a fellow of the National Humanities Center," said Christopher Nappa, chair of the FSU Department of Classics. "Not only does this fellowship bring attention to De Giorgi and his work, but it also represents a chance to build intellectual networks that will benefit the individual fellowship winners, their students and colleagues. This is the kind of opportunity that will bear fruit long into the future."
De Giorgi's project explores strategies deployed by communities in Roman Italy to mitigate environmental downturns and ensure the persistence of survivable conditions.
"Ultimately, my analysis enables critical insights and valuable comparative perspectives from across the Italian peninsula while also gesturing at contemporary plans to build healthy, sustainable urban communities today and in the future," De Giorgi said.
Reliable access to water remains central to the functioning of Italian communities. Recent droughts and record low water levels in Italy's longest waterway, the Po River, have forced the Italian government to enact water rationing. Incursion by the Adriatic Sea has led to saltwater burning crops and seeping into aquifers as well as contaminating clean drinking water, further aggravating poor conditions.
"Growing up in Italy, I remember looking at the Po River and thinking it looked enormous, like a monster," De Giorgi said. "But this past summer, it broke my heart to see the water level so incredibly low. My research is rooted in an emergency that's persisting even now. Italy and the whole Mediterranean are likely going to experience yet another very hot summer this year."
De Giorgi served as co-director of the Cosa Excavations in the Province of Grosseto, in Tuscany, from 2013-2019 before becoming director in 2021. The dig site has been active since 2013, providing a unique environment for archaeologists, technicians, scientists, graduate and undergraduate students to dig into Italian history and historical infrastructure.
"Cosa, a completely waterless site, was crippled by this endemic lack of water," he said. "We've been studying this community for a decade with a view toward understanding how inhabitants were able to cope with these limitations and build a durable water infrastructure."
De Giorgi credits his success to the supportive research environment at FSU, namely the Council on Research and Creativity, or CRC, a part of the FSU Office of Research that provides internal funding to promote research and creative activity across all disciplines.
"The CRC has been instrumental in getting this project off the ground," De Giorgi said. "I received their support as an assistant professor during my first year at FSU. Ten years later, I have publications, former grad students doing fantastic things, dedicated undergraduate students, and now I've clinched this extraordinary award. None of this could have really happened without the incredible resources provided by the CRC."
To learn more about De Giorgi's research and the Cosa Excavations, visit classics.fsu.edu.