A mural celebrating the origins of the Seminole Tribe of Florida was unveiled on South Macomb Street in Tallahassee adjacent to the Florida State University campus.
The 135-foot mural, created by Wilson Bowers and Samuel Tommie of the Seminole Tribe of Florida, features multiple elements of the Tribe's creation story, including the animals that ultimately became the Mothers of the Seminole Tribe: Panther, Bird, Bear, Deer, Snake and Otter.
The mural also depicts a Chickee, a traditional Seminole house made of Palmetto leaves over a cypress log frame still used today, and Big Town (Toad), one of the Clan Animals. On either side of the Clans are diamonds with patchwork that depict a series of colors known to the Tribe as Fire Colors.
"We have a very rich and colorful history and culture and that's what I wanted to embody and represent on this wall with our Clan Mothers," Bowers said.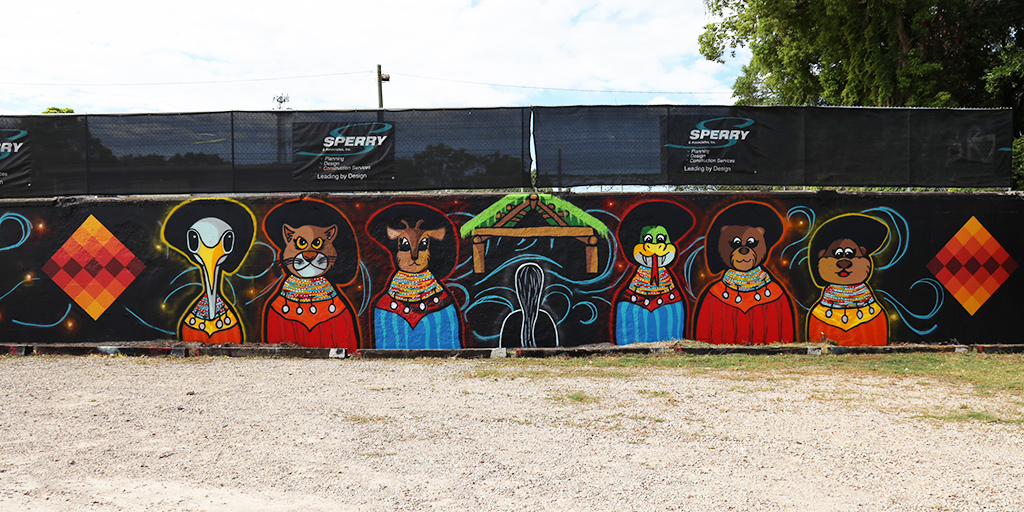 In 2020, the Tallahassee Downtown Improvement Authority secured a grant from the Knight Foundation distributed by the Community Foundation of North Florida with a goal to increase cultural representation through art.
Over two years, the DIA worked with several partners to create the mural, including the Seminole Tribe of Florida, contractors Sperry and Associates, Inc., and the Ah-Tah-Thi-Ki Museum of Seminole Culture and History located on the Big Cypress Reservation.
Representatives from those organizations, in addition to FSU President Richard McCullough and Tallahassee Mayor John Dailey, gathered April 27 to celebrate the mural's unveiling.
"This amazing mural reminds us of the opportunities we have and how we can come together and learn from each other," McCullough said.
For more than seven decades, Florida State University has been honored to have a relationship with the Seminole Tribe of Florida built on respect, friendship, and support for one another.