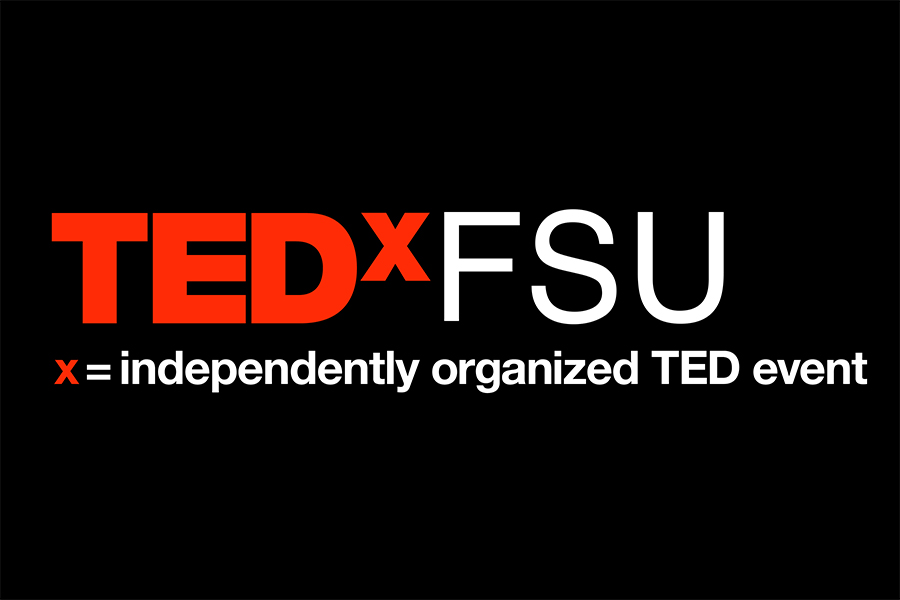 Florida State University will host the annual TEDxFSU conference, highlighting the innovative talents and ideas of FSU students, faculty and alumni.
The event will take place at 2 p.m. Wednesday, April 6, in the FSU Alumni Center Ballroom.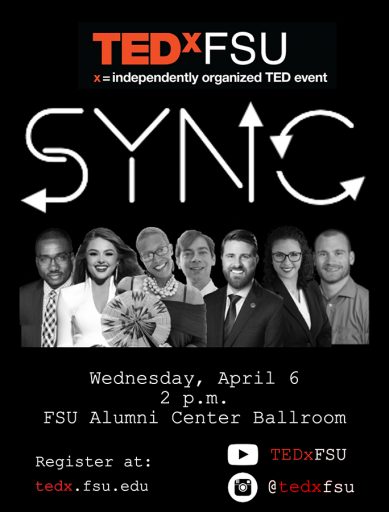 Speakers from a wide variety of backgrounds, including advocacy, robotics, medicine, art and research will talk at the free public event, which also will feature three musical performances from members of the university community.
"TEDxFSU is an opportunity to celebrate the innovative, creative and sometimes just plain wild ideas that come out of our great university," said Scott Shamp, TEDxFSU license holder and faculty adviser. "Students, faculty and alumni all work together to spread the ideas that can change all of our lives—and maybe the world."
TEDxFSU is associated with the global nonprofit organization TED and is independently organized almost completely by students within FSU's Center for Leadership & Social Change, College of Fine Arts and Alumni Association.
"The FSU Alumni Association has been crucial in strengthening TEDxFSU's connection to alumni and is thrilled to sponsor the TEDxFSU again this year," said Julie Decker, president and CEO of the FSU Alumni Association. "This event showcases our students and faculty doing incredible work at Florida State, as well as two outstanding alumni changing the world right now. It demonstrates the value of a degree from FSU."
For nine years, students, faculty and staff have organized this event through the support of campus and community sponsors, in addition to the students' creative visions. TEDxFSU has become a unique event for discovering the wide range of expertise and opportunities that can be found at Florida State.
"TEDxFSU pushes you to explore creative solutions to complex problems and to expand your own self-imposed limitations," said Madison Finley, speaker director for TEDxFSU's 2022 conference. "TEDxFSU ultimately encourages you to think critically and challenge your own perspectives in the wake of new ideas."
This year, the conference includes an outdoor reception where attendees can engage with one another — and the speakers — about the ideas presented on the TEDxFSU stage.
"The exploration of ideas is a crucial part of the TEDx experience," said Paige Rentz, staff adviser for the program. "Our goal for the reception is to provide even greater networking opportunities for different segments of the FSU community and the broader Tallahassee region. We want to encourage them to interact with one another in new ways and hopefully find common ground over shared interests and ideas."
The hybrid event is free and open to the public, though seating is limited. For more information and to register for the event, visit https://tedx.fsu.edu/.
---
TEDxFSU Presenters:
Emmabella Rudd
Student 
FSU Public Health Program 
After being diagnosed with Type 1 diabetes at age 5, Rudd has dedicated her life to finding a cure and educating others. Rudd's passion has led her to volunteer hundreds of hours and raise thousands of dollars for diabetes research. In recognition of her social work and advocacy, she was one of 400 individuals from around the world to receive the prestigious Diana Award, established in memory of the late Princess of Wales.
Christopher Constantino
Assistant Professor 
FSU College of Communication & Information 
Constantino teaches stuttering and counseling as a speech-language pathologist in the School of Communication Science and Disorders. He studies how to improve stuttering's embodied and social experiences.
Shani Peter
Student 
FSU College of Medicine 
Peter is a medical doctor completing her residency at Michigan Medicine. Peter, who is currently studying adult neurology, has investigated how dancing and the tango might help patients cope with Parkinson's disease.
Chris Omni
Student 
FSU Art Education Department 
Omni, a doctoral candidate in Florida State University's Art Education Department, has a divine mission: to create and hold spaces of self-restoration and healing. Omni's research focuses on "Blacktivating Joy," an arts-based, digital storytelling experience focused on honoring the legacy of Black women through narrative inquiry and photo-elicitation.
Christian Hubicki
Assistant Professor 
FAMU-FSU College of Engineering 
Hubicki builds two-legged robots that can run and walk.  He also uses the lessons and skills he acquired as a "Survivor" contestant to build robots with new strategic capabilities.
Jean Accius
FSU Alumni 
American Association of Retired Persons (AARP) 
Accius is AARP's Senior Vice President of Global Thought Leadership and a dedicated advocate for changing how the world views and values aging. He is an internationally recognized expert on aging, longevity, equity, healthcare system changes and modernizing long-term care delivery and funding.
Jared Lyon
FSU Alumni 
Student Veterans of America (SVA) 
Jared Lyon, the National President and CEO of Student Veterans of America (SVA), leads the organization's efforts to empower student veterans through higher education. Lyon has overseen SVA's expansion to a network of more than 1,500 chapters on campuses in all 50 states and three countries, representing 750,000 student veterans since taking office.