Florida State University Panama City is hosting a screening of "Americanish," the first romantic comedy made by diverse American Muslim women about Muslim women, followed by a Q&A with award-winning director Iman Zawahry.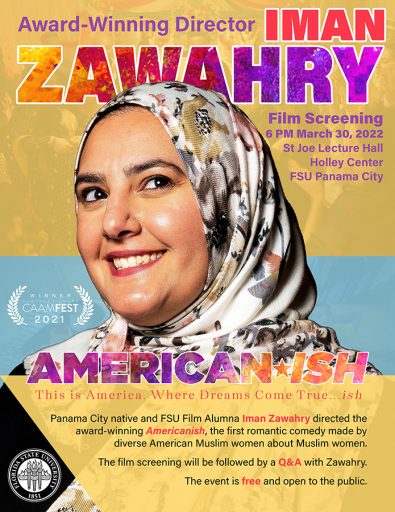 The event will take place at 6 p.m. Wednesday, March 30.
This screening is part of FSU Panama City's "Illumination, Shedding Light on Diversity" initiative, which highlights diversity, equity and inclusion through a series of guest speakers that allows the community to hear different viewpoints, engage in meaningful conversations and learn from unique experiences belonging to the minority.
"As a filmmaker, I embrace my truth in an unwavering compulsion to share my authentic story as an American Muslim woman," said Zawahry, a Panama City native and FSU Film alumna. "'American. Brown. Muslim. Woman' — that is the heart of my story. Many of the narratives we see today that are put forward are ones of the foreign Muslim voice and do not address the American Muslim perspective."
The 90-minute rom-com, with the tagline "This is America. Where Dreams Come True…ish", invites viewers into the home and lives of three middle-aged American Muslim women living in the Jackson Heights neighborhood of Queens in New York City. Follow the joys and tribulations of career-driven sisters Maryam and Sam Khan and their cousin Ameera as they navigate romance, culture, career and family.
Zawahry has drawn from her experience as an American Muslim woman for the film to highlight the layers of womanhood as they intersect with cultural and societal expectations.
"It's a coming-of-age story where three young women learn to balance their American identity with old-world cultural expectations," Zawahry stated. "I've devoted my life to portraying brown American Muslim women as real human beings: people with hope and yearning; people who struggle with being true to their religion and true to themselves."
Since debuting at CAAMFest 2021, "Americanish" has received numerous awards, including the Grand Prize Winner at Heartland Film Festival and YES Film Festival; the Audience Award Winner at CAAMFest, New York Asian Film Festival, Asian American International Film Festival and Philadelphia Asian American International Film Festival; Best Director at La Femme Festival; Best Actress Aizzah Fatima, Tasveer Film Festival; Best Indie Comedy, Best Supporting Actor Godfrey and Lifetime Achievement Award Lillete Dubey at Ft. Lauderdale International Film Festival; Honorable Mention Best Film at Chicago South Asian Film Festival; and Runner Up, Best Film and Audience Award at Anchorage Film Festival.
The event is free and open to the public and will take place in the St. Joe Community Foundation Lecture Hall at the Holley Academic Center, 4750 Collegiate Drive. Food and drinks will be available.
For more information, visit https://pc.fsu.edu/.