The John and Mable Ringling Museum of Art, part of Florida State University will present a concert focusing on women's oral traditions, lullabies and folk tales, as well as the combined musical traditions of Africa and the Caribbean Feb. 11-12. 
"Sharing Grandmothers" is an original song cycle by two multidisciplinary musicians — Inez Barlatier and LORNOAR — exploring the profound contributions of Black women to humanity. Barlatier is a Miami-based Haitian American singer/songwriter, percussionist and dancer. LORNOAR is a Cameroonian artist whose work also encompasses traditional and original songs, music and dance.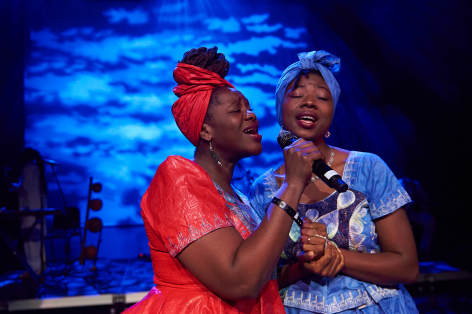 "In celebration of Black History Month, The Ringling is proud to present an innovative international performance that opens the doors of the world to Sarasota audiences," said Elizabeth Doud, Currie-Kohlman Curator of Performance. "We also value collaborations that include artists who call Florida home. This inspiring concert featuring the powerful lyrics and healing voices of Lornoar and Inez Barlatier builds and celebrates the voices of Black women creatives." 
Under the direction of Miami-based director Carlos Caballero, a Latino/Caribbean artist, the work will celebrate the legacy of shared ancestry and traditions between Cameroon and Haiti, celebrating the influences of Africa on the Caribbean and its diaspora and the empowerment of the 21st-Century Black woman. 
"Sharing Grandmothers" is a transatlantic collaboration between two contemporary artists who have jointly created new music and lyrics that provide a modern-day commentary on issues that women face globally and which speak to the shared challenges Black women face in both the United States and Africa. 
Tickets and more information are available at http//www.ringling.org/events/sharing-grandmothers or by phone 941-360-7399.
About The Ringling 
The Ringling is the preeminent center for the arts, history and learning that is dedicated to bringing the past and contemporary culture to life through extraordinary visitor experiences. From its inception, The Ringling has joined the diverse visual traditions and theatrical spectacle of yesterday with the genre-defying global practitioners of today.  
A place of exploration, discovery and respite, The Ringling's campus in Sarasota, Florida — which includes the Museum of Art, the Circus Museum, a historic mansion, an 18th-century theater and bayfront gardens — is listed on the National Registry of Historic Places.  
As the State Art Museum of Florida and part of Florida State University, The Ringling fulfills an important educational mission. The Ringling offers formal and informal programs of study serving as a major resource for students, scholars, and lifelong learners of every age within the region, across the country and around the world.