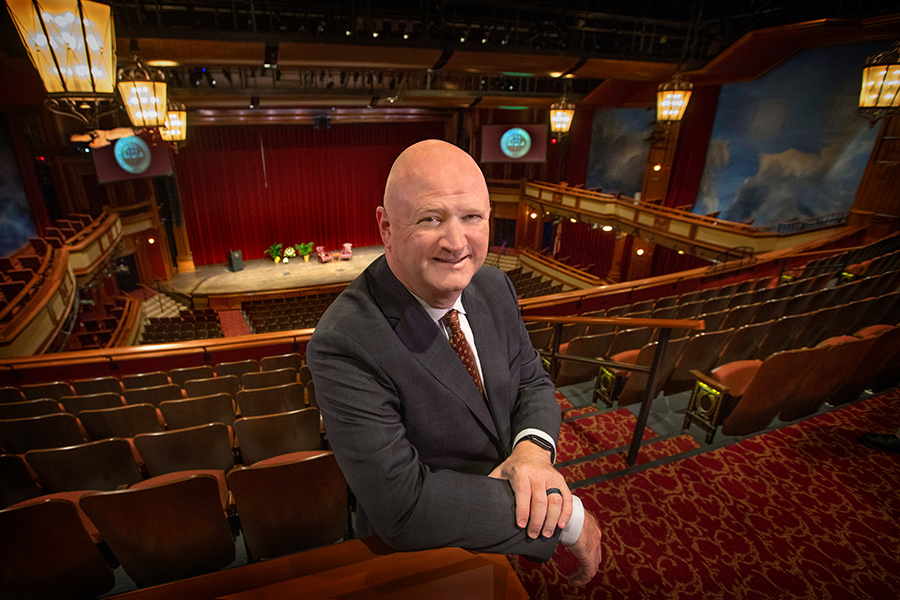 Music has been a constant source of happiness in Todd Queen's life, and he's centered his career around music's powerful influence on human beings.
Queen, regarded as a national leader in music, arrived at Florida State University in the midst of a pandemic, taking over as dean of the College of Music in January 2021.
Now, almost a year into his tenure as dean, Queen said it's great to hear music again in the halls and is excited about the college's future.
"I have always been impressed with the reputation that the college holds, and the comprehensive degree programs that we offer," Queen said. "I believe that the future of music lies in preparing students with the skills they need for multiple career paths, and we have the structure to offer those skills and choices for our students."
The first in his family to graduate college, Queen has produced and directed more than 60 opera and musical theater productions and has performed around the world — from Fargo and Fort Collins to Rome and China.
"I always felt like my job as a teacher was to guide and inspire, but mostly to empower students to take control of their education and to make life whatever they wanted it to be," Queen said.
As a child, Queen enjoyed playing the piano, saxophone and singing in the choir. But it was when he moved from rural Ohio to Brigham Young University in Provo, Utah, to attend a college that he knew he wanted to make music and teaching his life's work.
"I fell in love with the university atmosphere," said Queen, who has now taught for more than 25 years. "I knew immediately that I wanted to be a college professor — I never wanted to leave the campus environment."
From BYU, Queen went on to attend Eastman School of Music in Rochester, New York, where he earned his Master of Music and Doctor of Musical Arts degrees in Vocal Performance and Literature.
Throughout his career, Queen has traveled the world and is a strong advocate for international study. His experiences have led him to unique opportunities in China, Italy and throughout the United States.
"I have seen the transformation that takes place when a student travels abroad and has an international study experience," Queen said. "They see life through a different lens, and they come back forever changed, having a better understanding of how they can impact the world."
No matter where his profession has taken him, the power of music has remained at the forefront of Queen's efforts and motivation.
"Music touches our soul in ways that words often cannot express. Music is a universal language that can connect us as humans, regardless of our differences in language and culture."

— Todd Queen, dean of the FSU College of Music
"Music touches our soul in ways that words often cannot express," Queen said. "Music is a universal language that can connect us as humans, regardless of our differences in language and culture."
Queen spent several years as a professor and chair of Colorado State University's Department of Music, Theatre and Dance before becoming dean of the LSU College of Music and Dramatic Arts in 2014, where he spearheaded a $60 million fundraising campaign and restructured the undergraduate curriculum to include new and modernized music courses.
Impressed with Florida State's commitment to student success, Queen was drawn to the reputation of FSU's College of Music, the third-largest public music college in the nation with a 100% placement rate for education and therapy.
Currently, he leads more than 100 faculty members and 40 staff alongside three associate deans as they mentor the next generation of musicians.
"Faculty members who are committed to leadership in their field and mentoring the future generation of musicians are essential to success and innovation in the college," said Greg Jones, associate dean of the College of Music. "Dean Queen has worked to gain internal and external support so that he can attain better teaching and learning spaces, enhance visibility for the work of students and faculty research and increase community engagement."
Queen considers himself a "servant leader," helping his employees and students achieve their dreams and goals. This leadership style has proven beneficial in the myriad of positions Queen has undertaken.
"I most admire leaders who can connect their passion to the mission of the organization," he said. "I think that is one of the most important jobs of any leader — to inspire and help create a collective vision in which everyone has a voice and a role."
Queen is hopeful for the future of the College of Music and is excited to work with faculty and staff on a strategic plan for the future.
"We want to ensure that our facilities match the quality of our program and that we continue to be an integral part of the Tallahassee arts community," Queen said. "We will be focusing our effort on these areas over the coming years."
But most of all, Queen wants to see students succeed.
"I love seeing that growth that our students undergo during their time in college," he said. "The university experience was such a seminal part of my own experience and growth, and I love that our students have that opportunity to create their future, whatever that may be, through hard work and determination."