A faculty member in Florida State University's Department of English has received a collaborative research grant from the National Endowment for the Humanities to digitize the work of award-winning American novelist Gloria Naylor and develop a model for engaging Black women's literary archives.
Professor of English Maxine Montgomery will use the three-year, $100,000 award to travel to Lehigh University in Bethlehem, Pennsylvania, to collaborate with scholars at Lehigh and Sacred Heart universities.
"Engaging Black Women's Archives: Gloria Naylor and Twentieth-Century Literary History" is a multi-institutional project that will allow Montgomery to carry out programmatic events surrounding the digitization of Naylor's unpublished papers at Lehigh University. Naylor's archival material spans over 47 linear feet, and only one-third of the material is currently digitized.
"Discovering that this proposal was one of only 13 projects receiving this grant is humbling and rewarding," Montgomery said. "The organization received a large number of strong proposals, so the selection of our project speaks volumes about the importance of our work for the digital humanities, archival studies, and Black women's literary and cultural studies."
Montgomery, who shared a personal and professional relationship with Naylor, was inspired to pursue this funding to direct critical attention to Naylor's work. While most are familiar with Naylor's works, including "The Women of Brewster Place," many of her insights into 20th-century intellectual and cultural histories, Black women's intersectional lives, folklore and vernacular culture, gender and sexualities, and issues of class remain unpublished.
As a literary scholar whose research interests include a focus on contemporary Black women's fiction and expressive culture, Montgomery has a fascination with Naylor's novels and insights. She has authored two books on Naylor as well as numerous articles and essays in scholarly journals and edited collections. In 2003, she interviewed Naylor at her residence in Brooklyn, New York, and later invited her to visit FSU where Naylor delivered two public addresses following the publication of her fictionalized memoir, "1996."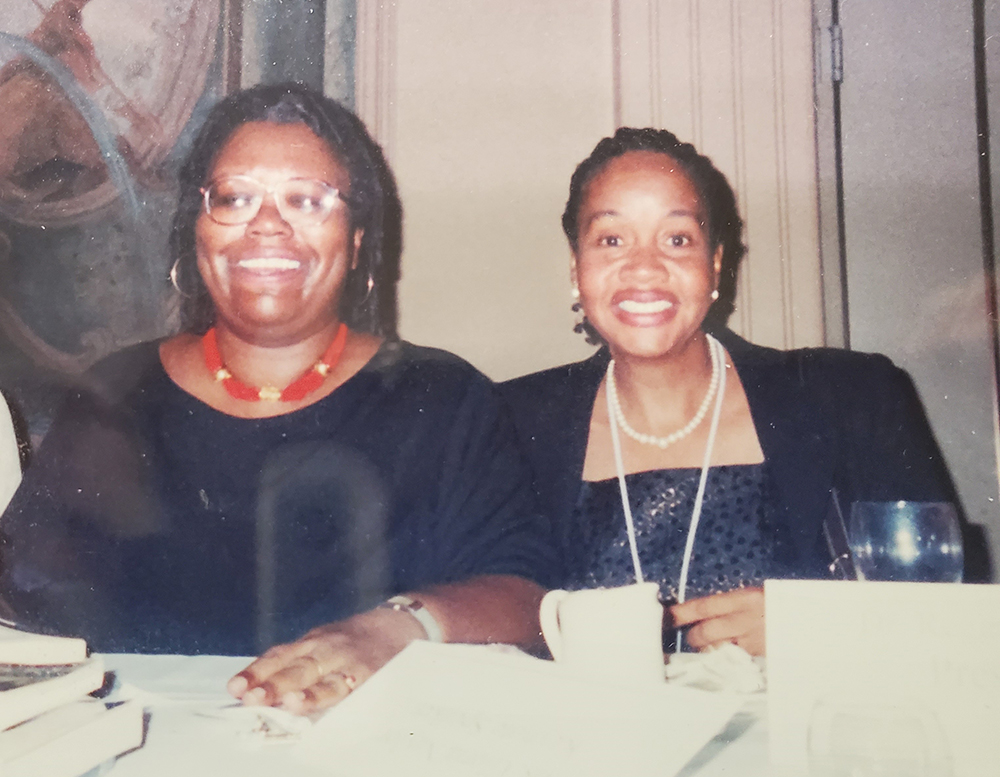 "Her ability to create works of fiction that speak to the specificity of a raced, cultured and gendered experience in relation to the narrative history of Blacks in a diasporic geography resonated with me on a professional level in my efforts to situate myself within a broad community of literary scholars," Montgomery said. "At the outset of my scholarly engagement with Naylor, I realized she had not received the critical attention she merits. My multiple scholarly undertakings will illuminate her works and elicit the broad critical engagement she deserves."
In addition to translating Naylor's unpublished papers into digital form, the team will build a collaborative model for engaging Black women's literary archives by circulating, contextualizing and analyzing holdings of the Naylor archives across multiple mediums. Montgomery will deliver the keynote at a symposium this fall at Lehigh University, featuring scholarly presentations, a theatrical production based on previously unproduced plays and round-table conversations that interrogate the intersection between Naylor's published and unpublished materials.
"I hope that our collaborative model will be useful beyond the immediate work over the next three years in framing an archival methodology for engaging with other Black women's literary archives and charting new directions for Naylor scholarship in relation to 20th- and 21st-century literary and intellectual histories," Montgomery said.
The research team will also host a two-day archival seminar following the symposium to give researchers an opportunity to engage with Naylor's collections. Each team member will finish a draft of an essay for the first volume of a critical collection and will publish one piece on the Naylor archives website, in addition to producing another scholarly essay during the third year of funding on Naylor's unpublished work in support of a second manuscript.
FSU English department chair and Robert O. Lawton Distinguished Professor Gary Taylor credits Montgomery's scholarship, mentorship and collaboration with enhancing the ongoing diversification of the department and supporting its ability to deliver rich, timely and culturally relevant coursework.
"Professor Montgomery has been one of the most important scholars researching the work of Gloria Naylor, and of Black women novelists more generally, for decades," Taylor said. "This grant grows out of, and contributes to, her commitment to educating and inspiring undergraduate and graduate students at FSU."