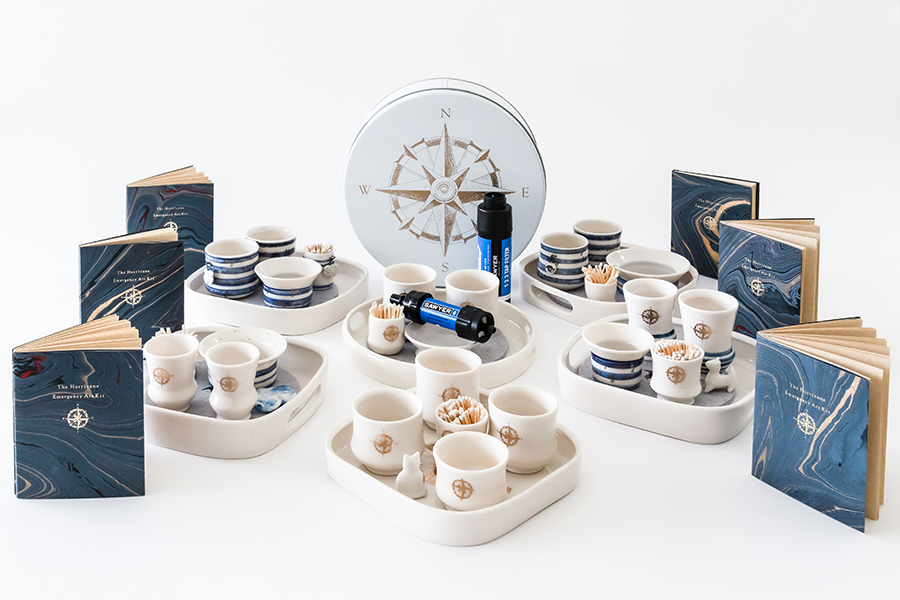 The onset of a massive hurricane can cause environmental damage, threats to sustainability and even psychological suffering.
A Florida State University art professor is tackling two of these detrimental effects in one project by producing a Hurricane Emergency Art Kit.
Professor Holly Hanessian recently unveiled the kit at a public event held at the FSU Museum of Fine Arts. The project has received support from both the FSU Office of Research and corporate partner Sawyer International.
Hanessian's first objective in developing the project was to address water sustainability and disaster resiliency in underserved communities. The kit encourages the use of appropriate water filtration technology and seeks to decrease the reliance on single-use plastic water bottles.
"Right before Hurricane Michael, I was in Walmart's camping section and found the Sawyer mini-filter," Hanessian said. "I was amazed that the filter could clean 100,000 gallons of dirty water and wondered why they couldn't be at the front of the store, where mounds of plastic bottles of water were piled? This thought ignited my passion for this project and for others to connect the idea of global warming and increased hurricanes to plastic water bottle-use."
The Hurricane Emergency Art Kit is enclosed in a tin that floats and includes one Sawyer mini-water filtration system and a series of handmade porcelain objects designed for self-soothing.
In addition, the kit comes with a handmade book containing hurricane preparedness tips, games, guides for reducing anxiety in anticipation of a hurricane and poems from local writer Christine Poreba.
"Once everything is put away and tied down, you are left with anxiety and worry waiting for the hurricane," Hanessian said. "The book is written for children and families. There is also a hand soother fashioned into an animal for kids to whisper their worries to during the storm."
At the center of the Hurricane Emergency Art kit is the mini-water filtration system provided by Sawyer.
For more than 30 years, Sawyer has been offering products for outdoor protection, including point-of-use water filters that filter contaminated water to levels cleaner than U.S. bottled water. Sawyer's corporate mission is to eliminate two of the biggest causes of death in the world: bad water and mosquito bites.
"We are committed to bringing clean water to the world," said Travis Avery, marketing director for Sawyer. "The Hurricane Emergency Art Kit helps illustrate our message that clean water can also be sustainable, and we at Sawyer were proud to donate our filters to the project."
In addition to the sponsorship and support from Sawyer, FSU's Office of Research provided significant support to this interdisciplinary research endeavor. Hanessian received funding through the FSU Council on Research and Creative Activity's small grants program to buy materials for the project.
"The Office of Research aims to create serendipitous spaces where great minds with different expertise can come together to solve a problem," said Laurel Fulkerson, interim vice president for Research at FSU. "The things we are facing as a society do not put themselves into disciplinary boxes, and so we can often come up with better solutions when we work together."
The project was created as part of an interdisciplinary team's investigation into water sustainability and disaster resiliency in underserved communities. Hanessian consulted with colleagues from the Resilient Infrastructure and Disaster Response Center at the FAMU-FSU College of Engineering, the FSU Hispanic Marketing Network and the FSU Department of Urban & Regional Planning.
"The FSU College of Fine Arts recognizes the centrality of arts and design to the human experience," said James Frazier, dean of the College of Fine Arts. "Our charge is to expand our creative scholarship and research to help solve some of the biggest problems facing humanity."
Hanessian has created 25 limited-edition sets of the Hurricane Emergency Art Kit, which are available to the local community and will be given to corporate and not-for-profit entities that work with her on this project as it moves forward.
For additional information, visit https://art.fsu.edu/.