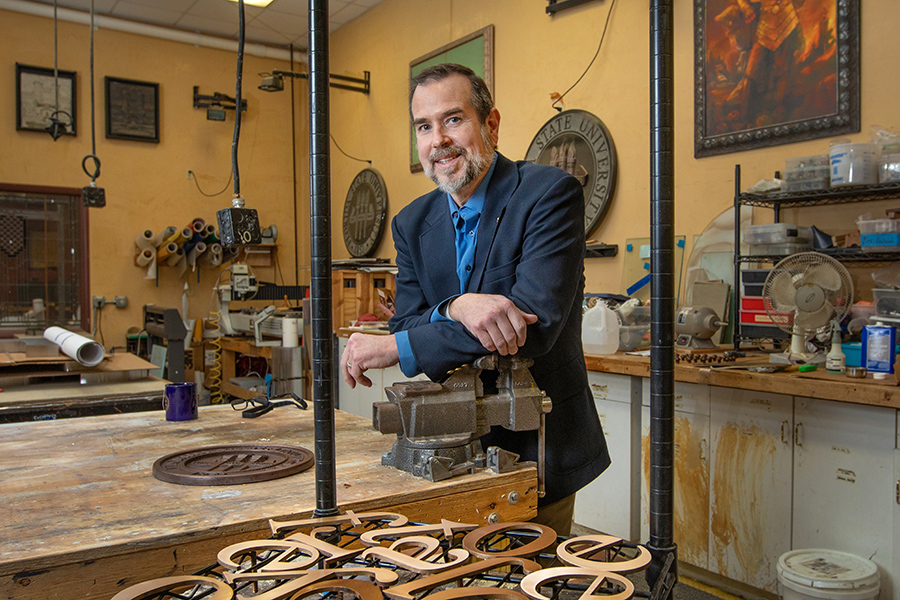 Being able to pivot on a dime has always been part of Master Craftsman Studio program director John Raulerson's modus operandi.
When the COVID-19 pandemic developed, the university's in-house art studio transitioned from creating custom sculptures and other public artwork to the production of medical-grade face shields and plexiglass partitions.
That ability to change has marked Raulerson's whole career.
The one-time faculty member planned on a traditional academic career, sculpting Tallahassee-area art students' young minds, but when an unexpected job offer presented itself to Raulerson, he accepted the challenge of leading Master Craftsman Studio (MCS) into future success.
So, he packed up his office in the Fine Arts Building and moved to the studio's facility on Gaines Street. He has never looked back.
"My dad said that if you ever feel like you are the smartest person in the room, then you should probably change rooms," Raulerson said. "Twenty-plus years ago, I decided that the simplest way to accomplish room changing would be in a university setting."
Raulerson said there will always be a person smarter or more talented than himself. Anyone can be trained in a method or skill set, though having a good heart and living in service of something larger than one's self, is not.
"When one grows up surrounded by entrepreneurs, you learn that plans change day-to-day, and that service is what sets you apart."

— John Raulerson, Master Craftsman Studio program director
"When one grows up surrounded by entrepreneurs, you learn that plans change day-to-day, and that service is what sets you apart," he said.
Originally from Bartow, Florida, Raulerson spent his childhood working alongside both of his grandfathers, growing orchids and farming citrus and cattle. At age 19, his time as an apprentice in the agricultural and horticultural disciplines pushed him toward attending an agricultural school, where he quickly learned farming would not be his life's work.
During an elective arts course, Raulerson found his true passion and took a leap of faith by moving to Tallahassee to pursue stone carving under artist Ralph Hurst.
With Hurst's encouragement, Raulerson went back to pursue his degree at FSU's College of Visual Arts, Theatre and Dance, now the College of Fine Arts, and focus on design and sculpture.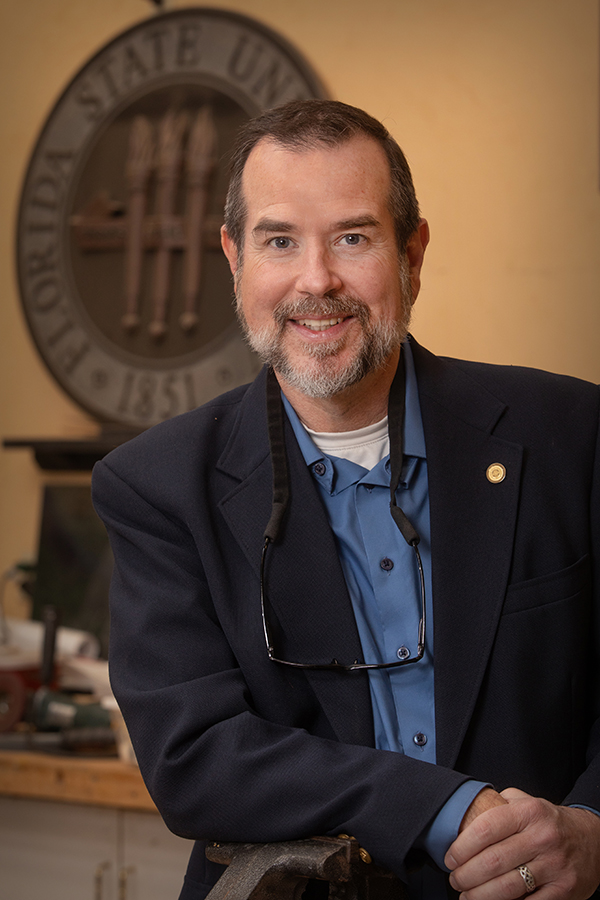 "During my training as an artist and designer, I perceived that there was a focus on perfecting one's technique," Raulerson said.
Aside from an early interest in stone carving, he concentrated on metal fabrication and foundry operations during his undergraduate and graduate studies — designing and building large scale sculpture and foundry equipment and systems.
"Some truly great mentors have influenced me throughout my education, which has extended well into my career," he said. "I have also, in my past, worked under some less-than-ideal conditions. As a result, I have found that the most effective means of motivation is to lead by example."
Raulerson earned his BFA from Florida State in 1996 and an MFA from the University of Georgia in 1999. In 2000, Raulerson secured a full-time position in the College of Fine Arts.
"Of the handful of places that I have studied, worked and lived, I have always been charmed by Tallahassee and still am to this day," he said. "I do not think one ever loses their affection for their undergraduate alma mater. I have been thrilled and honored to serve mine for 21 years now."
In 2011, he was recruited by FSU Facilities to help initiate and run the Outdoor Amenities Area within Grounds Operations, which focused on the restoration of public art throughout FSU's campus, valued at more than $3 million.
At the time, many art pieces were deteriorating. Now, as he continues to oversee this department, its focus has shifted from restoration to preservation.
"As a people, we have an obligation to safeguard the physical evidence of our experiences," he said. "We are not only stewards of these monuments, but of the historic significance they represent. As conservators it is our duty to maintain and care for them, leaving a record of how and what we have done to safeguard our legacy for our future generations. In short, we, the citizens are the owners of public art and therefore we have a social responsibility to preserve our valuable collection."
In 2014, Raulerson accepted a position with Master Craftsman Studio, a design house and fabrication studio in the FSU Facilities Department.
The core staff of MCS consists of both full-time and part-time artists and student interns throughout the Tallahassee area. Student interns work with professionals to gain hands-on experience with equipment to refine their artistic abilities and techniques while being exposed to the inner business framework of estimates, installations and creative problem solving.
"The mission of the studio has transformed over the years," Raulerson said. "We ultimately want to increase the beauty of our campus while also educating those working with us on how to make a living and run a shop or studio."
"The way this team comes together and collaborates, lending their talent and innovative skills to solve a design, method, material, or logistical puzzle, is remarkable."

— John Raulerson, Master Craftsman Studio program director
MCS is traditionally known for its design and fabrication skills, which are displayed in works of art throughout our campus and community, such as the stained-glass windows at Dodd Hall, spears over Doak Campbell Stadium and the "TLH" sculpture near Cascades Park.
Because these artists can successfully work together to solve conceptual, design and fabrication issues, MCS has had exciting opportunities over the years. From designing and building monumental sculptures and breathtaking stained-glass art to consulting with Coach LLC, the leather goods manufacturer and the Discovery Channel.
The studio recently shifted its focus to producing personal protective equipment (PPE), which played a significant role in the university's return to campus life during the COVID-19 pandemic.
"My team and I have an innate interest in materials and processes, their compositions, as well as their characteristics," Raulerson said. "Switching gears has become intuitive for us all. A large part of what we do is research and development for almost every project."
MCS artists produced more than 2,500 face shields, medical-grade face masks and installed Plexiglas partitions in office spaces and classrooms around FSU's campus.
"The PPE work we have been doing since the beginning of the pandemic makes me proud," Raulerson said. "Not because of any artistic merit or because it was a technical feat, but it is something that is physically and tangibly helping our community stay healthy."
The Master Craftsman Studio's ability to fabricate PPE on campus resulted in a savings of more than $80,000 for the university.
"The way this team comes together and collaborates, lending their talent and innovative skills to solve a design, method, material, or logistical puzzle, is remarkable," Raulerson said.
Raulerson is known for his strong leadership abilities and has always been fascinated by the systems behind the process.
"Though my mind is far from static, my resolve to complete what has been started is," he said. "My philosophy is due, in part, to years of starting and completing projects. I believe that working through the doldrums of a project is the hardest part. To start something is exciting, to build something is difficult, to finish something is revealing and rewarding."
As a former student, faculty member and now a program director, Raulerson has seen many improvements at FSU throughout the years and is excited to see what is next.
"Our university is capable of amazing things," he said. "I am thrilled to have the privilege of being part of the collective 'we' here at FSU."